Hello, I'm Granny P.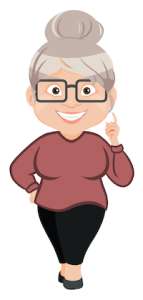 As soon as I figured out you could make your own Internet website, I figured if you whippersnappers can do it, so can I. I've had a lot of time on this earth, and I have a lot of advice to give.
My husband thinks I'm wasting my time, but he's over there in his lounge chair doing a whole lot of nothing. I oughta slap the beer right out of his grey-haired grizzly hands.
I'm gonna try my darnedest to help you young folks navigate this nutty world. I know how to cook, bake, sew, save money, and fix just about everything. If you're having trouble being an adult, I can help you with that, too. A good pushing is all you need sometimes.
You can follow me on my Pinterest & Facebook accounts. I never post anything crappy.
Have a nice day now,
Granny P