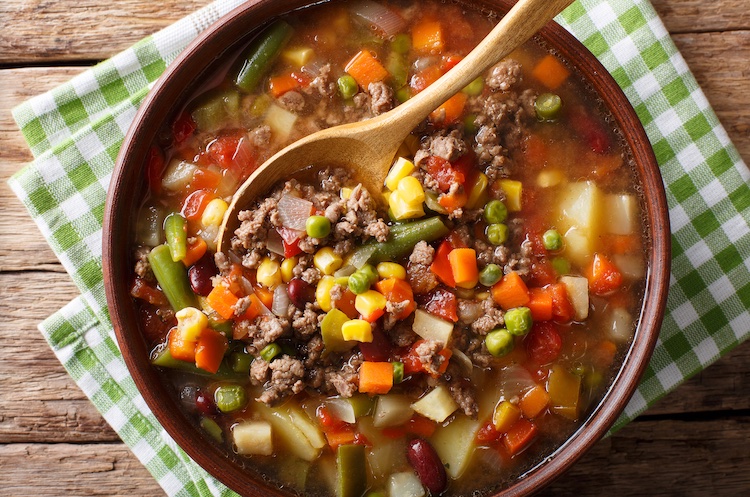 A cheap and easy dinner recipe your family will love! You can thank Grandma later.
Are you broke and pissed off about inflation? Well, listen up you little whippersnappers! You can still enjoy a good home cooked meal that doesn't cost you an entire day's salary with this delicious ground beef and potato soup.
Let me tell you, my darlings, if you're looking for cheap and easy ground beef dinner recipes that'll make your taste buds dance, then you've come to the right place. I may drink too much wine, but I sure know how to make a mean stew.
This recipe is quick and easy to make with just a few basic ingredients, plus you can easily customize it to your liking with whatever seasonings and fresh ingredients you happen to have on hand.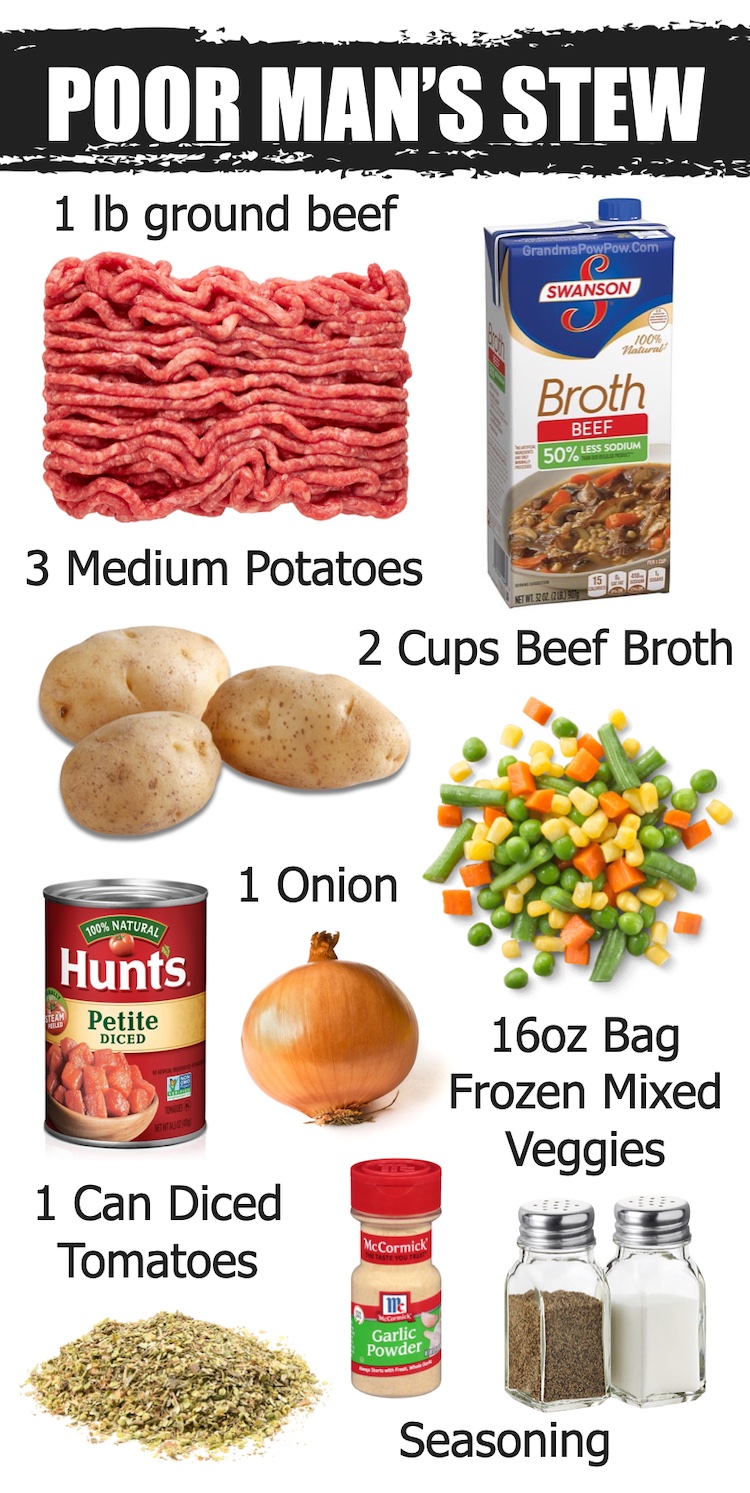 Ground beef is one of the cheapest meats you can buy, and is super versatile for so many recipes. Mix it with beef broth, canned tomatoes, chopped potatoes and some frozen mixed veggies and you've got a hearty and delicious meal that'll feed the whole family without breaking the bank. Don't forget to pour yourself a glass of wine while you're at it – it makes the cooking process way more fun.
This cheap and easy dinner will fill up your belly and make your taste buds dance.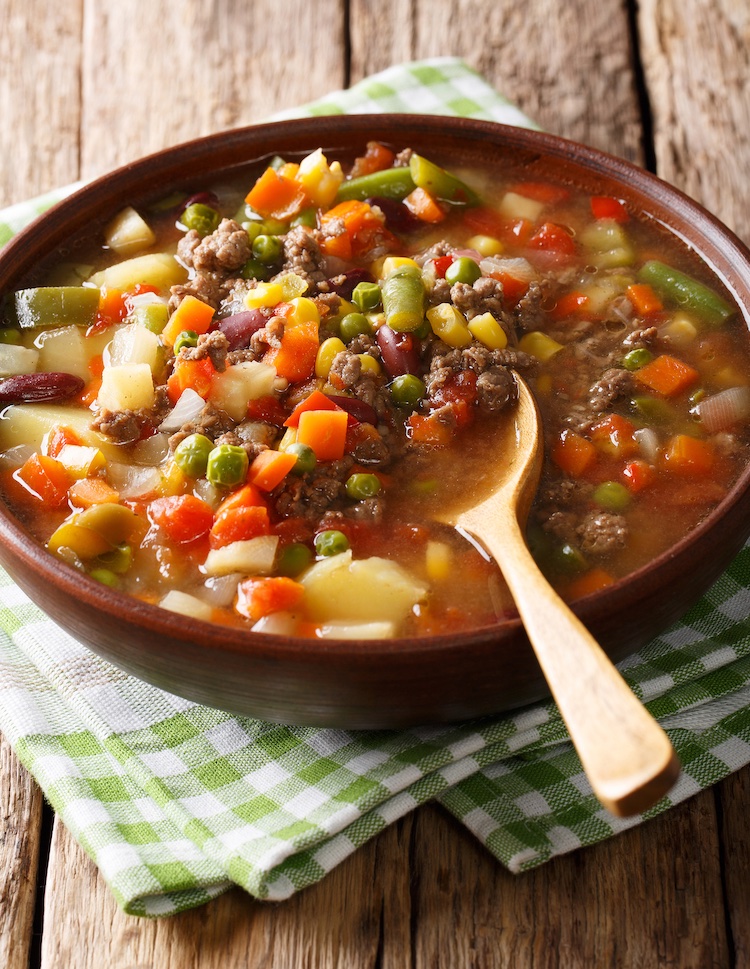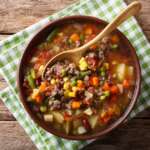 Print
Poor Man's Stew
A cheap and delicious dinner recipe your family will love! This easy budget meal is made with just a handful of common ingredients but the combination creates a comforting and filling meal.
Ingredients
1

pound

ground beef

1

medium yellow onion

(chopped)

3

medium russet potatoes

(peeled & cut into chunks)

1

(16oz)

bag frozen mixed vegetables

1

(14oz)

can diced tomatoes

2+

cups

beef broth

1

tsp

salt

1

tsp

black pepper

1

tsp

garlic powder

2

tsp

Italian seasoning
Instructions
In a large pot, brown the ground beef along with the chopped onion. I prefer to leave the excess grease because it adds flavor, but feel free to drain some or all of if you'd like.

Stir in the rest of the ingredients to the pot and simmer on LOW for about an hour, or until the potatoes are tender.
Notes
If you prefer more of a tomato base, you could add a little tomato paste, a can of tomato sauce, or a can of tomato soup. 
You can replace the onion with 1 tsp of onion powder, or leave it out all together if you're not a fan. 
Beef bouillon cubes are a nice replacement for beef broth and easier to keep stocked in the pantry. Simply mix a cube or two with a few cups of hot water. 
What else could you add to this soup? How about some kidney beans, celery, chopped carrots, fresh garlic, jalapeños, hot sauce, or anything else you have on hand. 
What could I serve with this? Buttered bread is amazing with this stew, as well as a little shredded cheddar cheese sprinkled over top. 
Want to make this in your slow cooker instead? No problem, darling. Simply brown the beef and onion, add it to your crockpot along with the rest of the ingredients, and cook on LOW for 4-6 hours. 
Freeze this soup for later in gallon or quart size freezer bags. Just remember to cool the soup first, and don't forget to label and date the bag. It should last for about 3 months in your freezer. 
Follow me on Pinterest for more dirt cheap recipes like this. I don't pin anything crappy.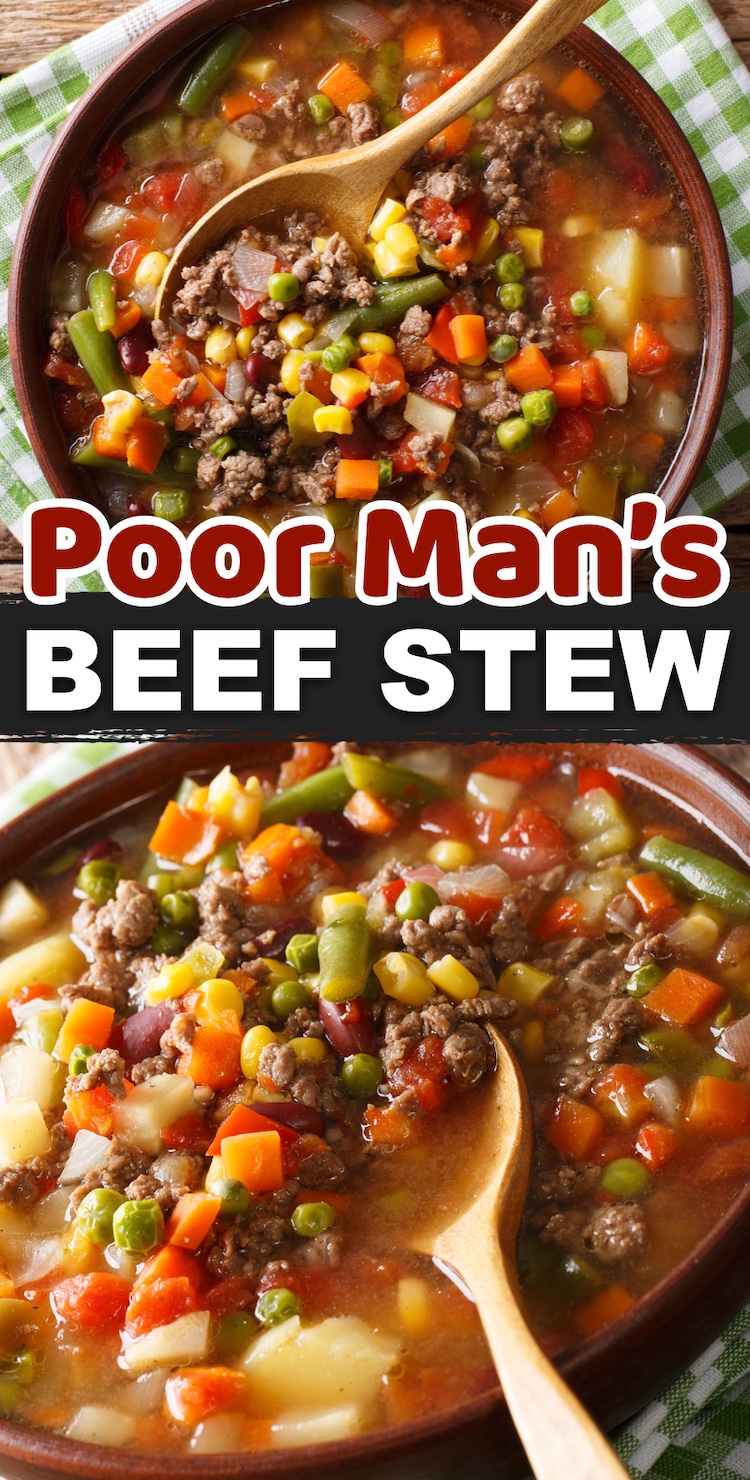 Grandma's take on being dirt poor…
Let me tell you a little bit about being broke. It's the best thing that can happen to you! You get to enjoy the luxury of having no cable or internet, so you can't waste your time on those silly shows or social media like Tickity Tock. And let's not forget the thrill of dodging bill collectors like it's a game of hide-and-seek. It's a good thing I have my trusty box of wine to keep me company, or else I might start feeling sorry for myself…
Who needs a fancy car or a big house when you can ride the bus and sleep in a cozy cardboard box under the bridge? And don't get me started on the joy of counting pennies to buy your next meal. It's like a treasure hunt every time you go to the grocery store. Just kidding ya'll, grandma may have had too much wine again.
Helpful Tips
How To Save Money on Food
Make meals like this Poor Man's Stew in bulk and then freeze what's left into portions that you would typically serve your family.
Plan your meals in advance so that you can make a grocery list and avoid impulse buys. I like to print out the budget meals that I make often and keep them handy on my pantry wall for easy access later.
Eat less! I know, that sounds bad, but intermittent fasting reverses aging, helps with weight loss, and has even proven to cure disease. Your body gets used to it after only a few short days.
Purchasing food in bulk can save you money in the long run, especially for staples like rice, pasta, and beans. You can also buy meat like chicken when it's on sale and freeze it for later.
Discount stores like Aldi and Lidl offer quality products at a lower cost than most supermarkets. Some stores offer cheaper produce while others offer cheaper meat. You may need to stop at a few different grocery stores to get the best bang for your buck.
Clip coupons from your local newspaper or download them from coupon websites such as Coupons.Com to save money on groceries.
Stick with fruits and vegetables that are in-season. They are typically cheaper and fresher than out-of-season produce, plus taste way better.
Farmer's markets offer fresh, local produce at a lower cost than supermarkets. Find out when and where they are held in your area.
Frozen fruits and vegetables are usually cheaper than fresh produce and are just as nutritious. Plus, you don't have to worry about them going to waste. I've had produce grow mold after only a day in the fridge. Frustrating!

In most cases, generic brands are just as good as name-brand products, but at a much lower cost. In a few cases, I've been 

surprised

 to find that I like the store-brand products much better!

Only head to the grocery store after a meal. Shopping when you're hungry can lead to a 36 pack of double stuffed Oreos and family-size bag of spicy nacho Doritos.