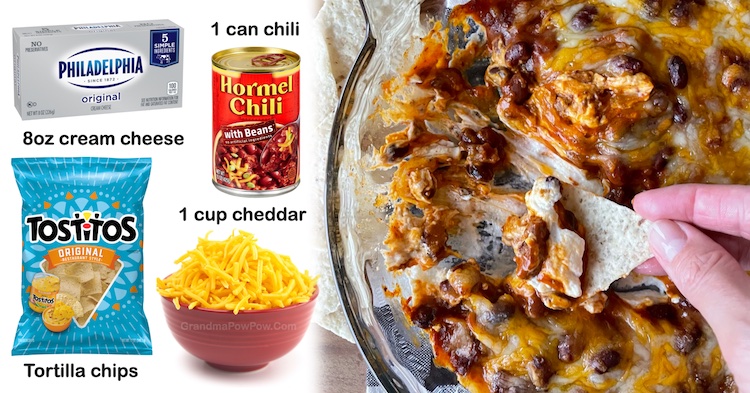 A Quick & Easy Appetizer For Your Next Party or Family Gathering
This cream cheese dip is so tasty, you'll empty the entire bag of tortilla chips before your hootenanny even starts. You might also gain 5 pounds over night, but it ain't my fault you can't control yourself. I'm just the messenger, and my message is: Damn, this party dip is GOOD!
It's so simple even a silly ol' grandma like me can make it. And the best part? No need to be a fancy pants chef, just throw in a few ingredients and let the good times roll.
Easy Chili Cheese Dip Ingredients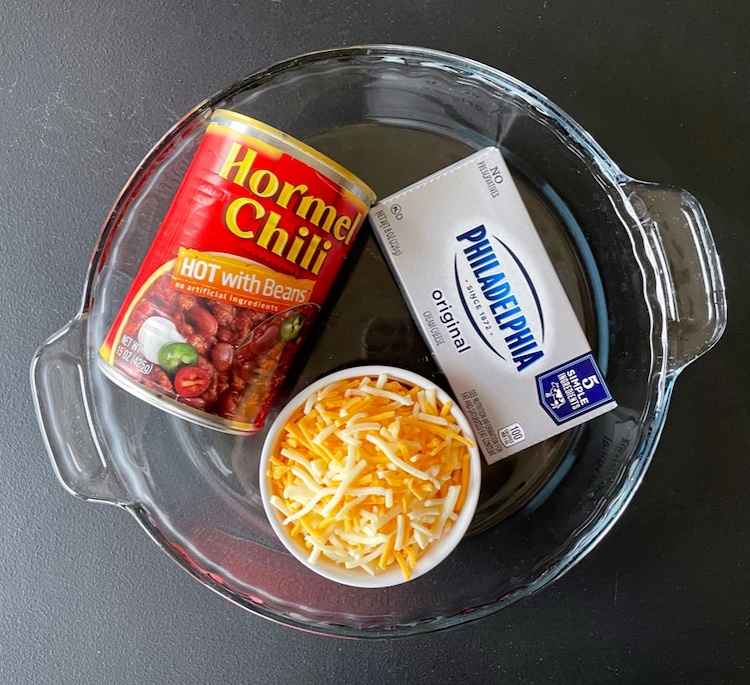 1 block cream cheese (the full fat variety, we ain't trying to get skinny here)
1 can chili (your favorite brand, or make your own if you like to do unnecessary work)
1 cup shredded cheese (or more if you have a cheese problem like me)
Don't forget to buy some tortilla chips for serving!
How To Make The Best 3 Ingredient Chili Cream Cheese Dip
Step One
Spread a block of cream cheese onto the bottom of a greased pie dish, or any small shallow dish.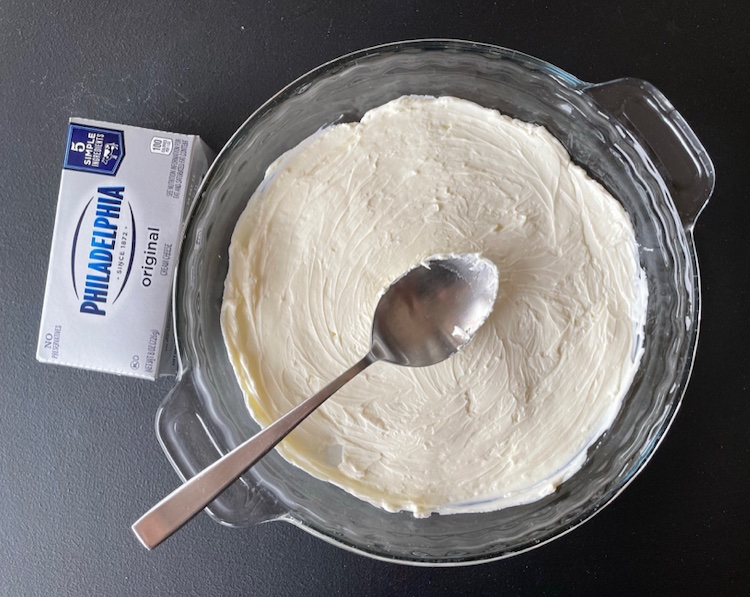 Step Two
Drink and beer and then dump a can of your favorite chili on top of the cream cheese and evenly spread it around. I chose a hot variety with beans this time, but you could could also use a mild chili or even vegetarian chili.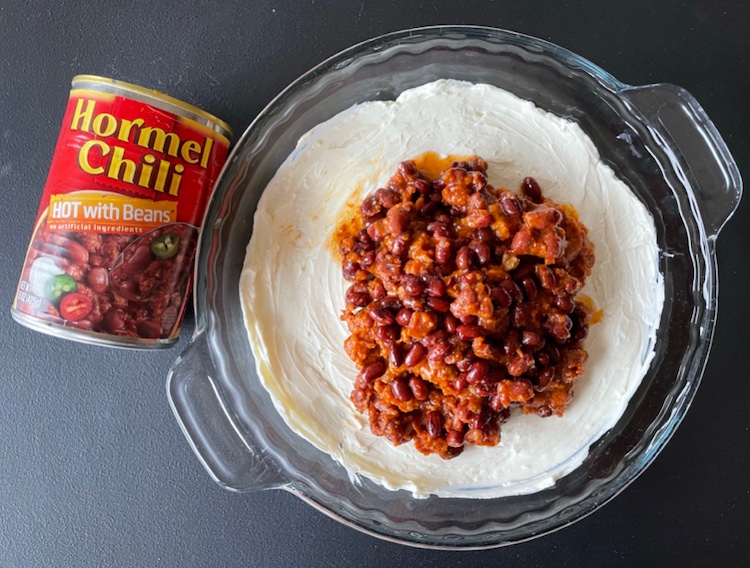 Step Three
Sprinkle about 1 cup of shredded cheese over top. I used a Mexican cheese blend but cheddar is also delicious. Again, I have a cheese problem.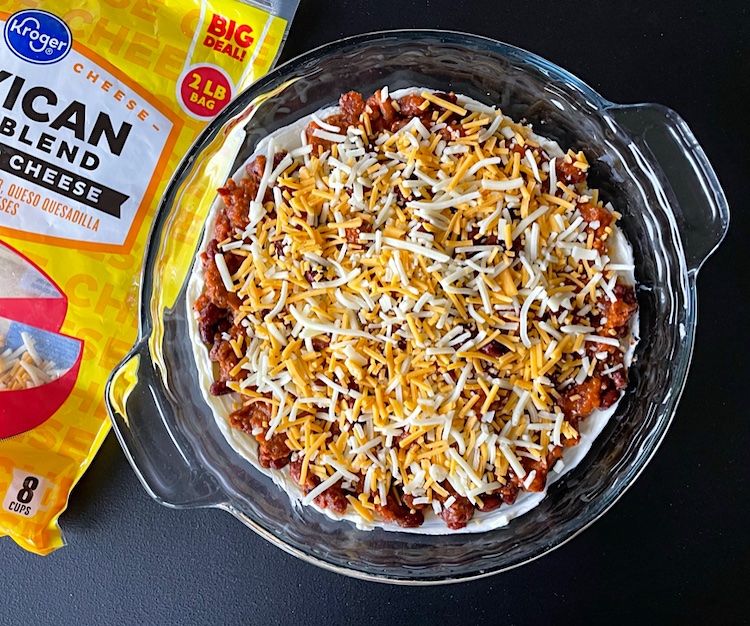 Step Four
Bake in a 350° F oven for about 25 minutes, or until the cheese is bubbly and everything is piping hot. Serve with tortilla chips or Fritos Scoops. Bring on the grub, I'm ready to chow down!
Grandma SaysThis yummy chip dip is super easy to make for last minute family gatherings and parties. I recommend doubling the recipe if you're serving a crowd because it disappears fast. I like to serve it with a side of jalapeño coins for those who like the heat. Spicy food lights up my taste buds with excitement!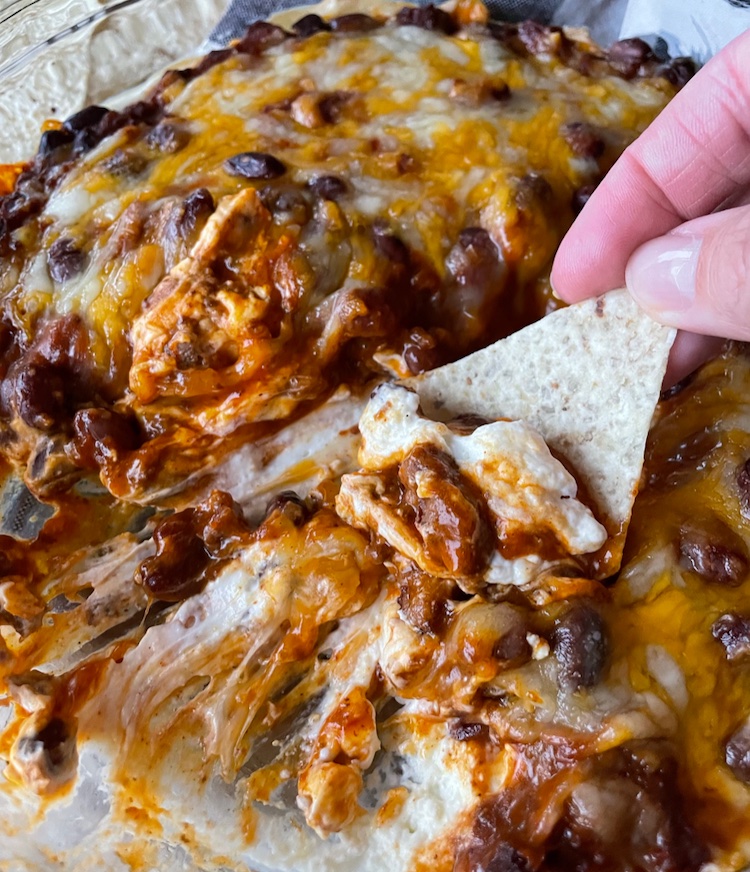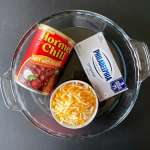 Print
3 Ingredient Chili Cheese Dip
This quick and easy appetizer is a crowd pleaser! Serve it warm with tortilla chips and watch it disappear. It's perfect for last minute parties and family gatherings.
Ingredients
1

(8oz)

block cream cheese

1

(15oz)

can chili

1

cup

shredded cheese

*see notes

chips for serving
Instructions
Preheat oven to 350 degrees F and grease a pie dish (or any small shallow baking dish).

Use a large spoon to evenly spread the cream cheese onto the bottom of the dish.

Dump the can of chili over top and spread it around.

Top with 1 cup or more of shredded cheese.

Bake for 25 minutes in the center rack of your oven.

Serve warm with tortilla chips.
Notes
*I recommend shredded cheddar, Monterey Jack or a Mexican cheese blend, but not mozzarella because it's stringy AF. 
Follow me on Pinterest for more easy & delicious recipes like this.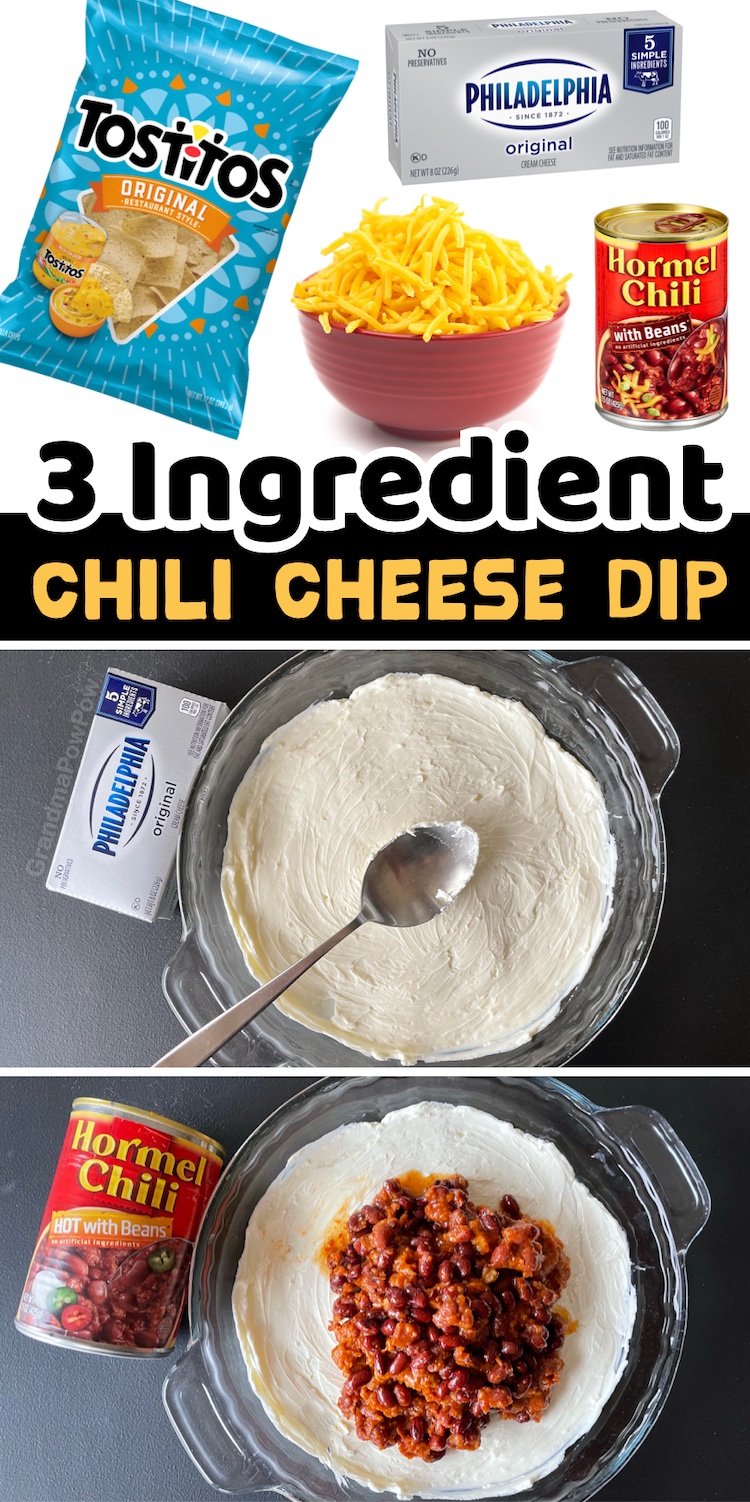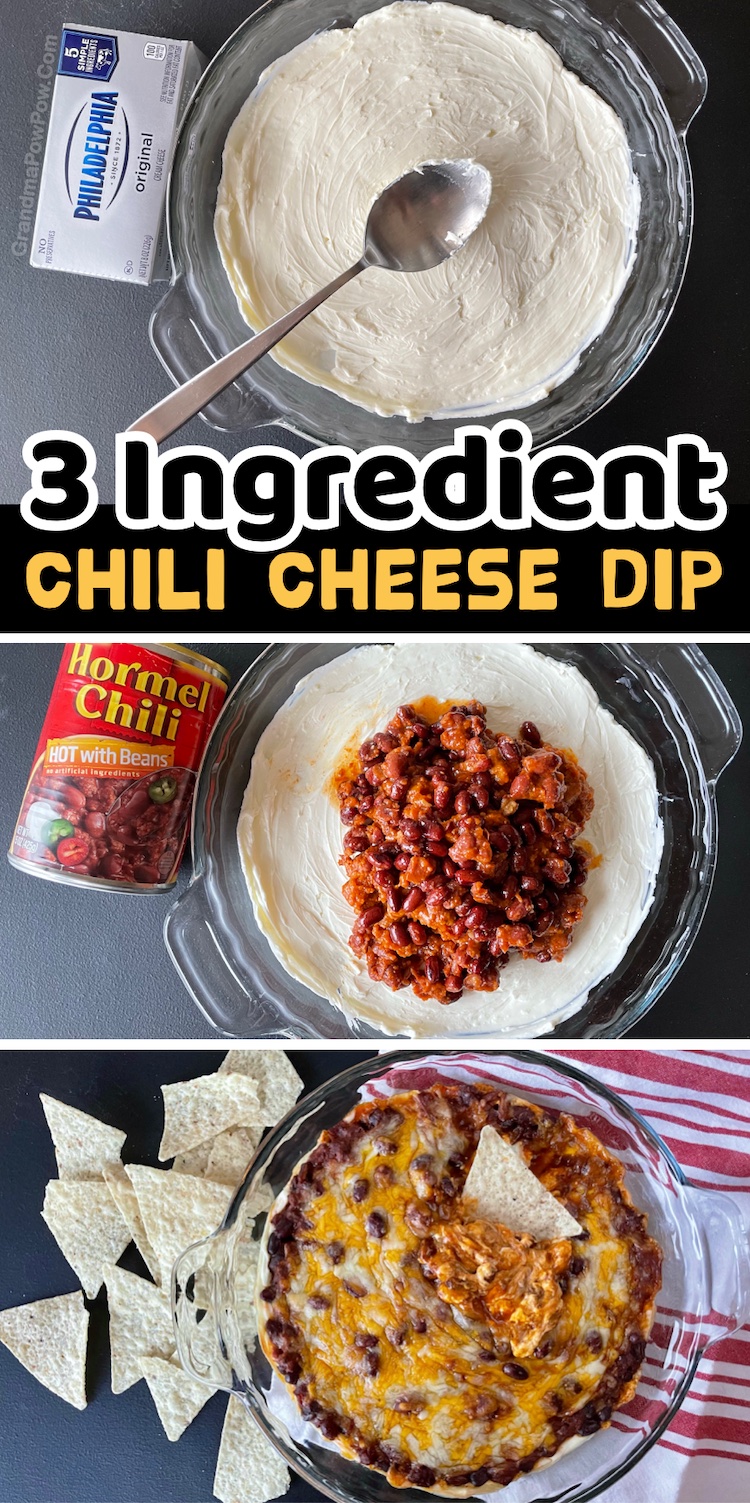 Story From Granny Oh my stars. I was at a family party and decided to have a little celebratory bottle of wine. And then another because it was just sitting in the fridge and nobody was drinking it. Next thing I know, I'm feeling as light as a feather! So, I grabbed a plate of chili cheese dip and made my way over to a table to sit down. But, oh no, I tripped on the carpet and sent the dip flying all over the place! Bless the good Lord, everyone found it funny and I didn't even break a hip. I had to drink another bottle of wine to celebrate my luck.