Are you too broke to afford meat?
Here is how to make canned Spam your new favorite pantry staple. This grandma knows how to cook on a budget, so listen up kids, you ain't too broke to pay attention.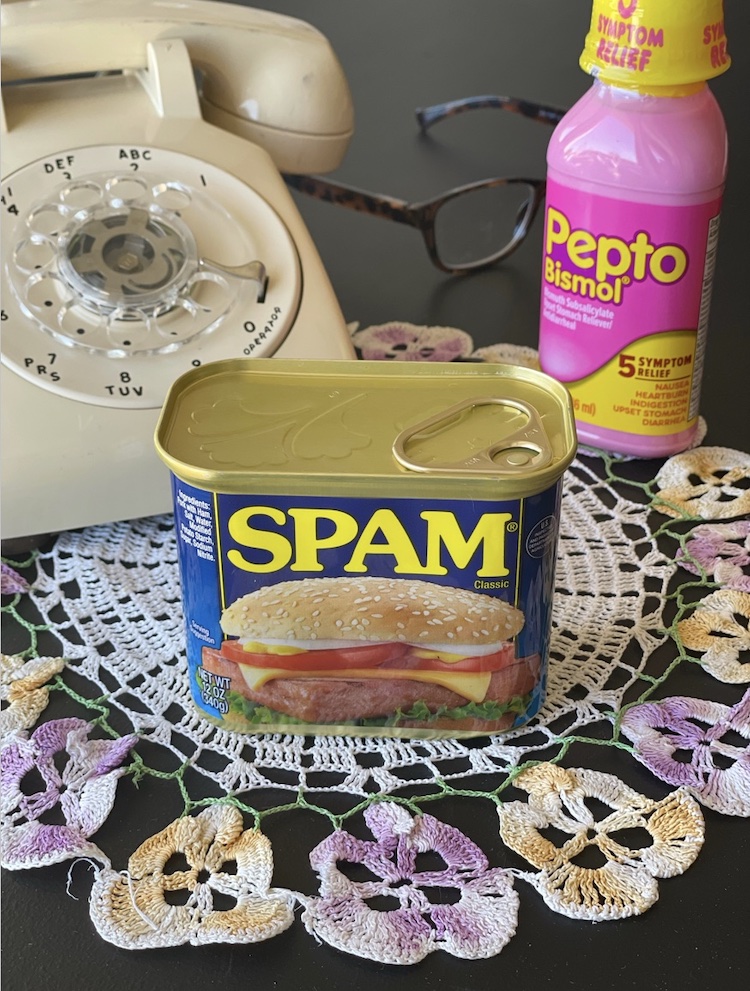 I'll tell you what, going to the grocery store these days is a real kick in the nuts. Back in the good ol' days, I remember getting a good juicy steak for $3. Serve that up with a 25 cent potato and a side of canned green beans, and you've got a meal fit for a queen. Now I can't even buy a chicken breast for less than what it would cost to sell my kidneys. Although, they probably ain't worth much with my drinking habits.
What is Spam?
Spam is bacon in a can, and I know that may sound weird if you're a hippy, but it's the same damn thing but with slightly different packaging, a lower price tag, and a longer shelf life. It's just too bad their marketing team chose the same name as those folks sending you too many emails.
How To Cut & Prepare Spam
A can of Spam can be used to easily add protein and flavor to just about any meal. You simply drink a few glasses of wine, plop the juicy meat out of the can, and then cut it up into 8-13 slices depending on how thin and crispy you want it to be. I recommend thinner slices to resemble bacon, and thicker slices to resemble cubed ham.
Grandma's Pro Tip: You can also cut the spam into small bite-size pieces before cooking it for golden brown and crispier edges.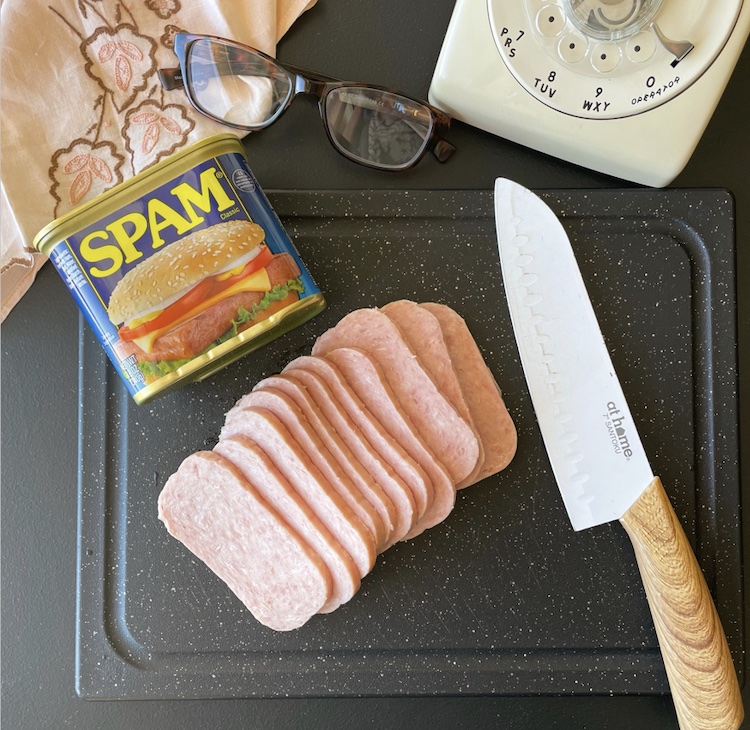 How To Cook Spam in a Pan on your Stove
Once you've got this enticing pork cut to your liking, sauté it in a pan over medium heat for 2-4 minutes on each side. No butter or oil needed! It's already full of fat, kinda like Mr. Beer Belly over here– always telling me what to do.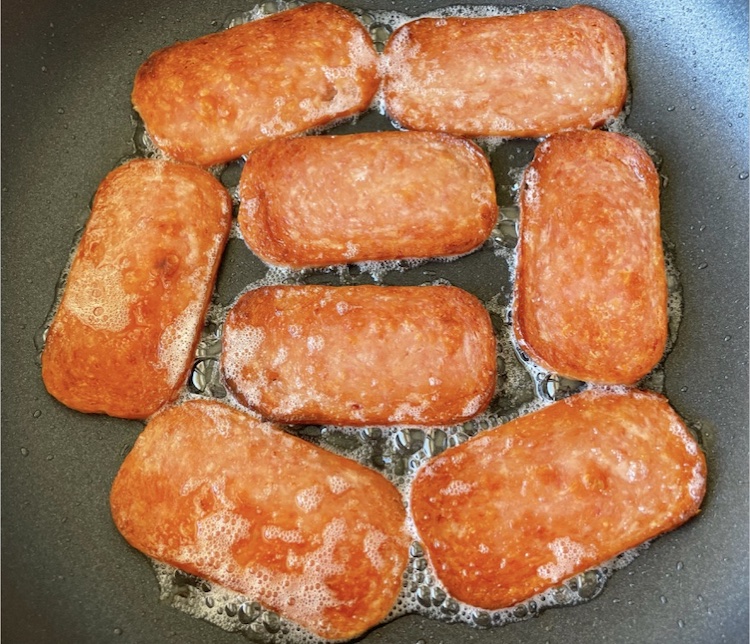 Now that you've got this yummy fried pork cooked to perfection, what do you do with it?
My Favorite: An SLT Sandwich!
Place that delicious meat in-between two slices of toasted bread with a little mayo, lettuce, and tomato. If you close your eyes while you eat, it will taste just like a BLT.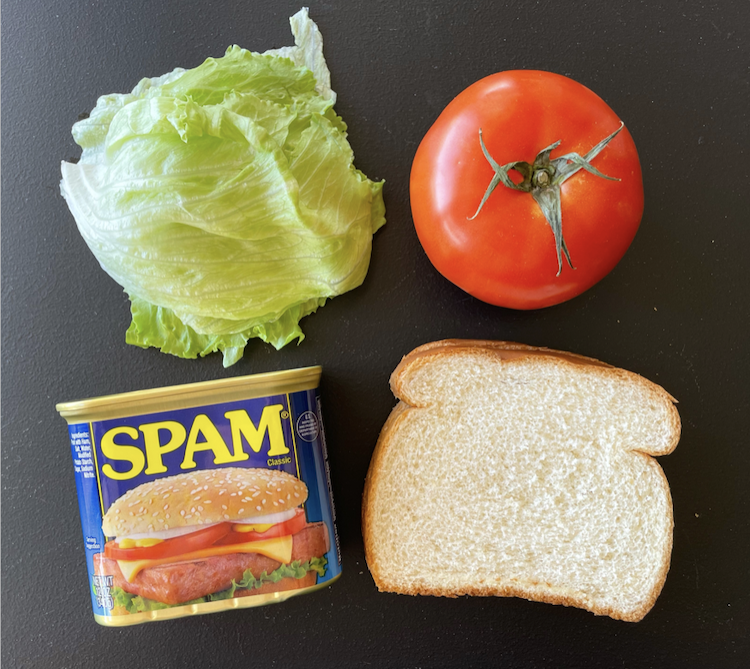 Replace Bacon with Spam in a sandwich. Now close your eyes and enjoy.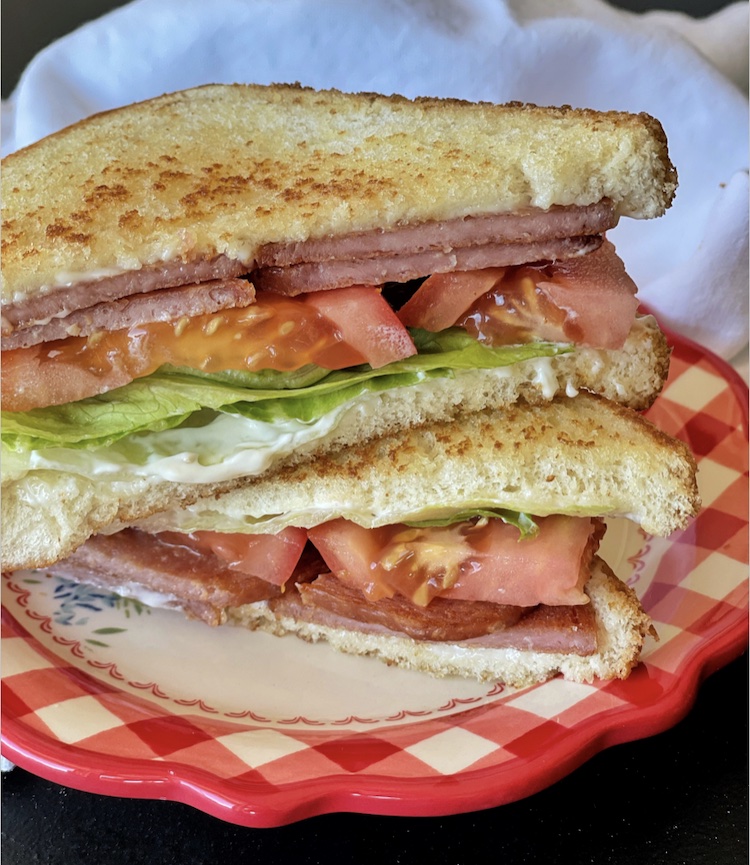 What Else Can You Make With Spam?
So many delightful options! Spam can be mixed into a casserole, can of soup, boxed meal, frozen meal, ramen noodles, salad, fried rice, baked beans, scrambled eggs, a potato, or anything else you'd add bacon or ham to.
1. Ramen Noodles
Don't get your panties in a piffle. I know you're all judging me while you Myspace on your blueberry, but you all know you secretly love Ramen noodles. Fry up some Spam and mix it with your favorite flavor for the best hangover food you'll ever eat.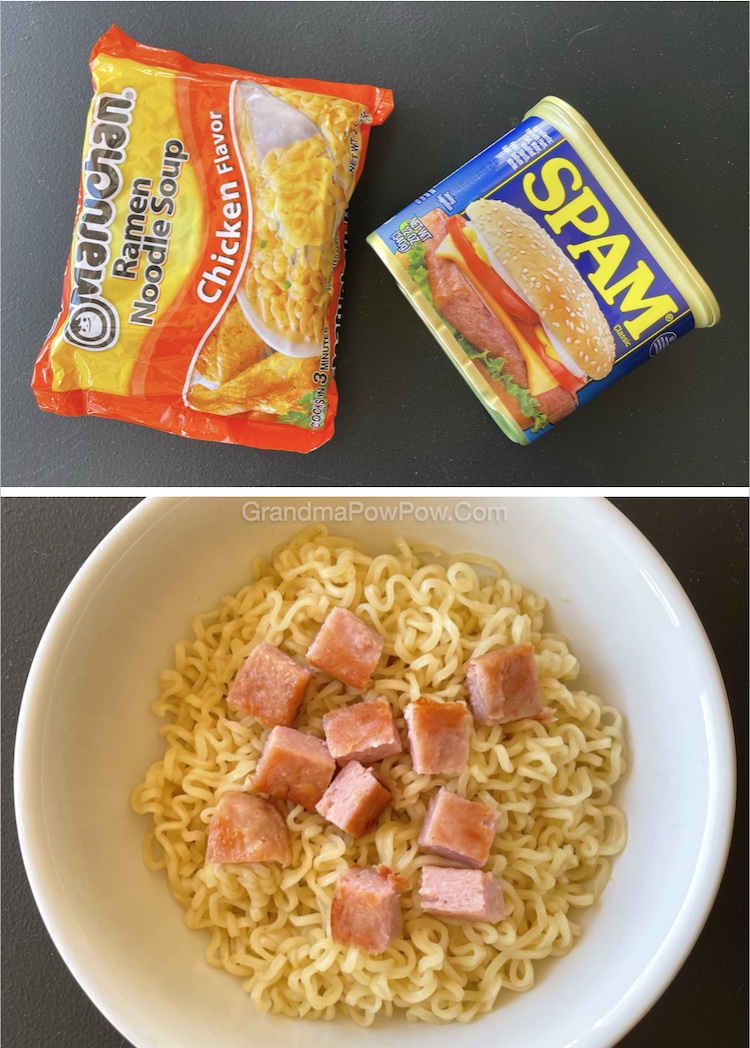 2. Morning Eggs
I told ya Spam was basically bacon, so you can figure out the rest. Replace anything you'd put bacon in with Spam: scrambled eggs, fried eggs, breakfast burrito, breakfast bowl, egg casserole, etc… Sprinkle in some Fiber One if you're worried.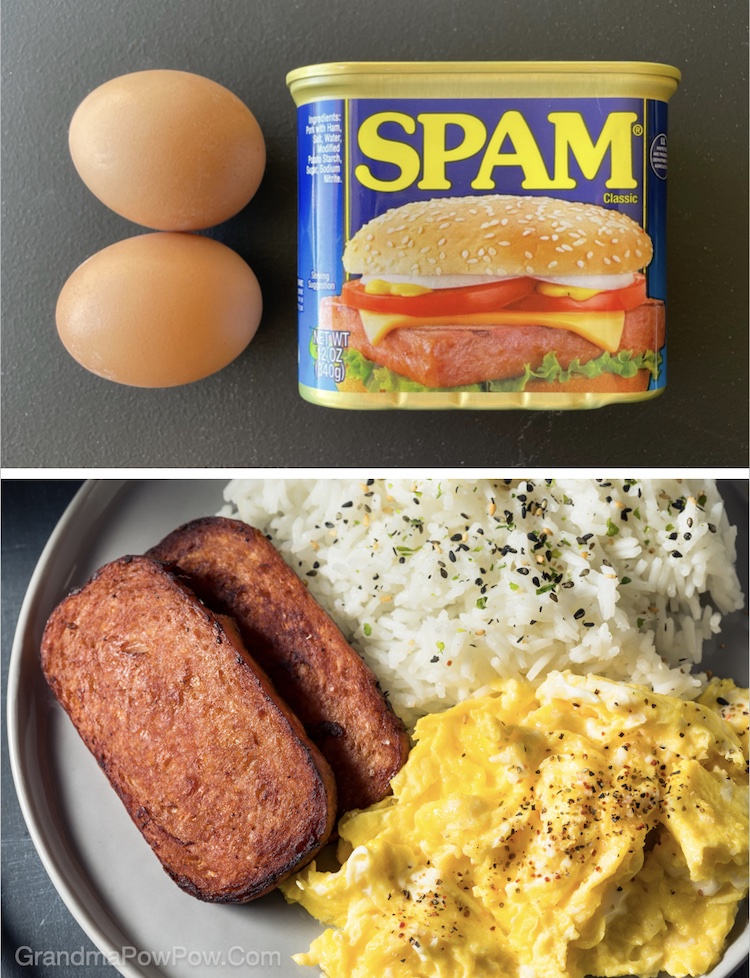 3. Fried Rice
The next time you're walking down the grocery aisles looking for an easy dinner to make, pick up a box of frozen fried rice and a can of Spam. These two pantry staples make for a delicious meal that will make your belly do a little dance.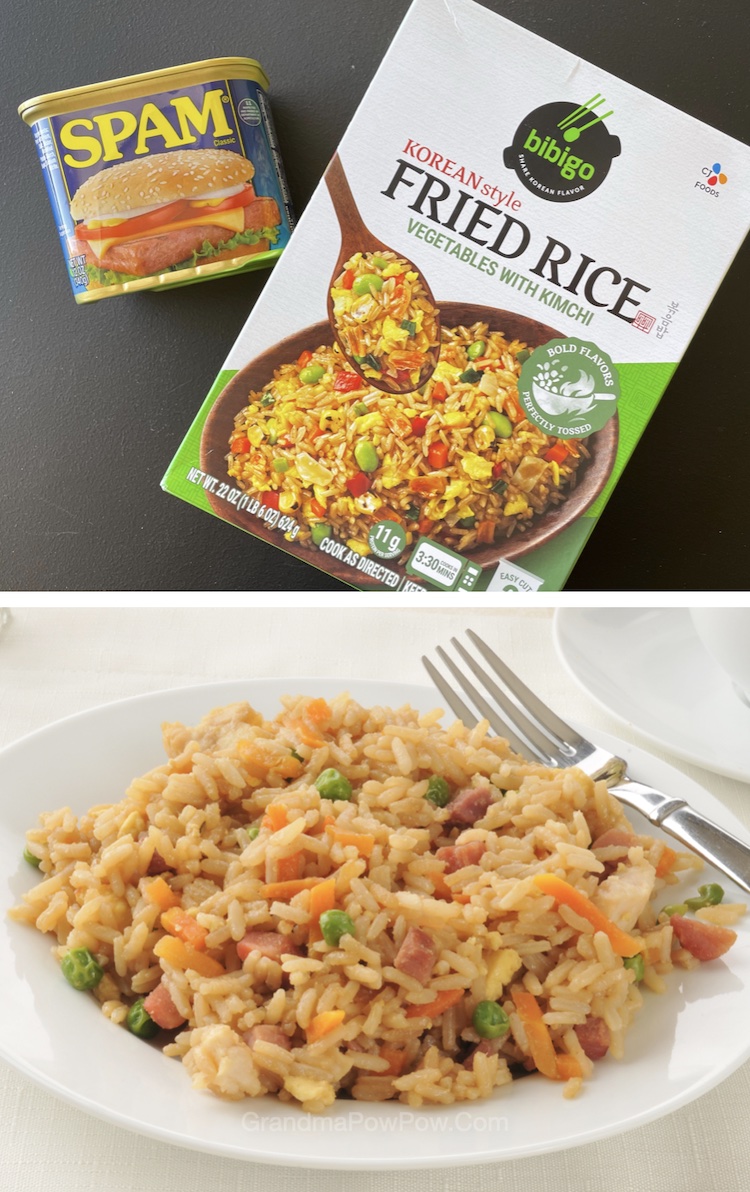 4. Potatoes
Spuds are the cheapest and most delicious food you'll ever eat. Combine fried Spam with a baked tater, roasted potatoes, hash browns, mashed potatoes, scalloped potatoes, a potato salad, or any other potato you can think up.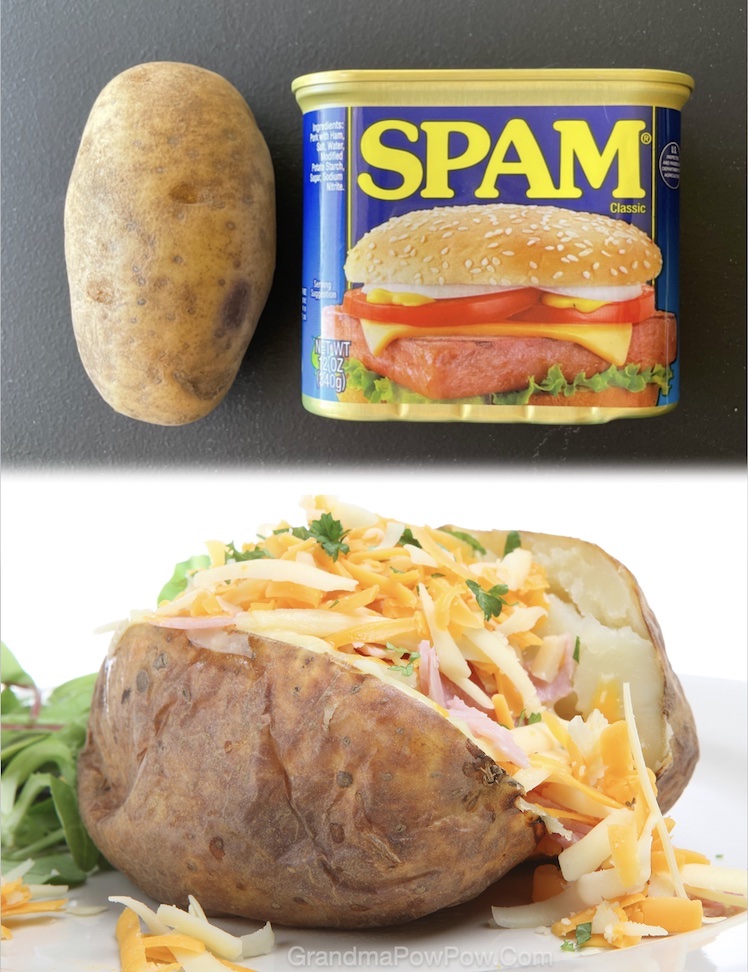 5. Jambalaya
A box of Jambalaya mix is full of flavor; that's all you're missing is the meat! Spam is a great option that seems to have fallen through the cracks. Fry it up into bite-size pieces and mix it in with this spicy rice.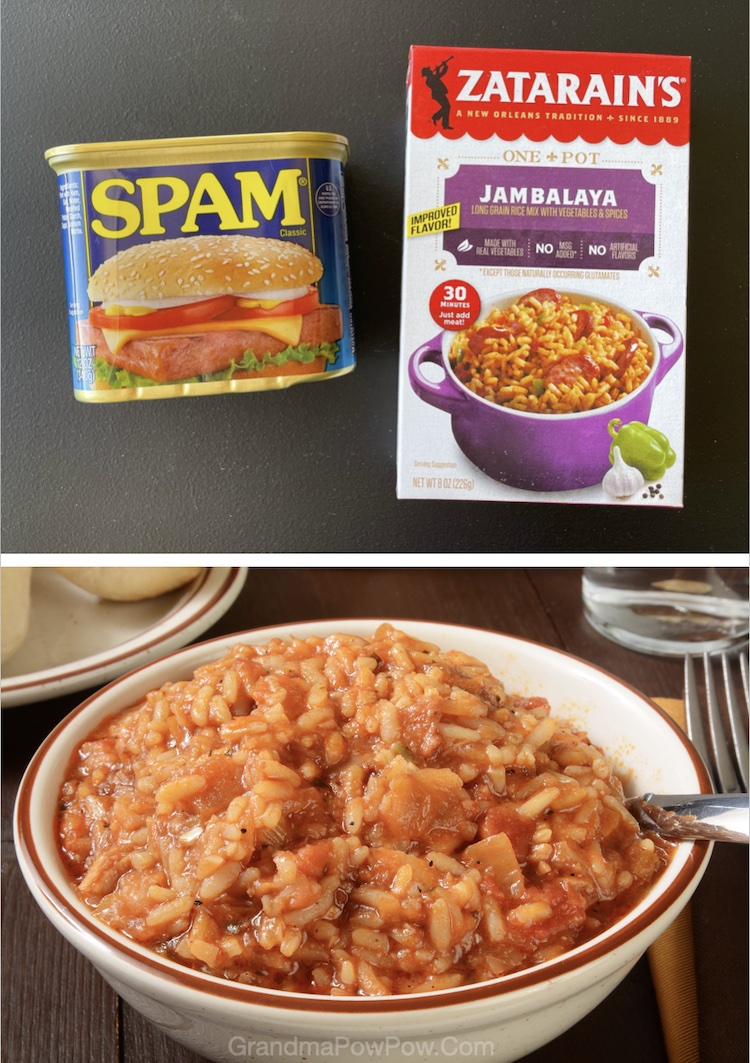 6. Macaroni & Cheese
The only thing missing in this classic comfort food is pan fried pork. Break out a can of Spam and your favorite box of Mac & Cheese for the laziest meal you'll ever make.
7. Potato Soup
Add some meaty flavor to a can of potato soup and you've got the best savory comfort food. Want to take it up another notch? Serve with shredded cheddar cheese and fresh chives.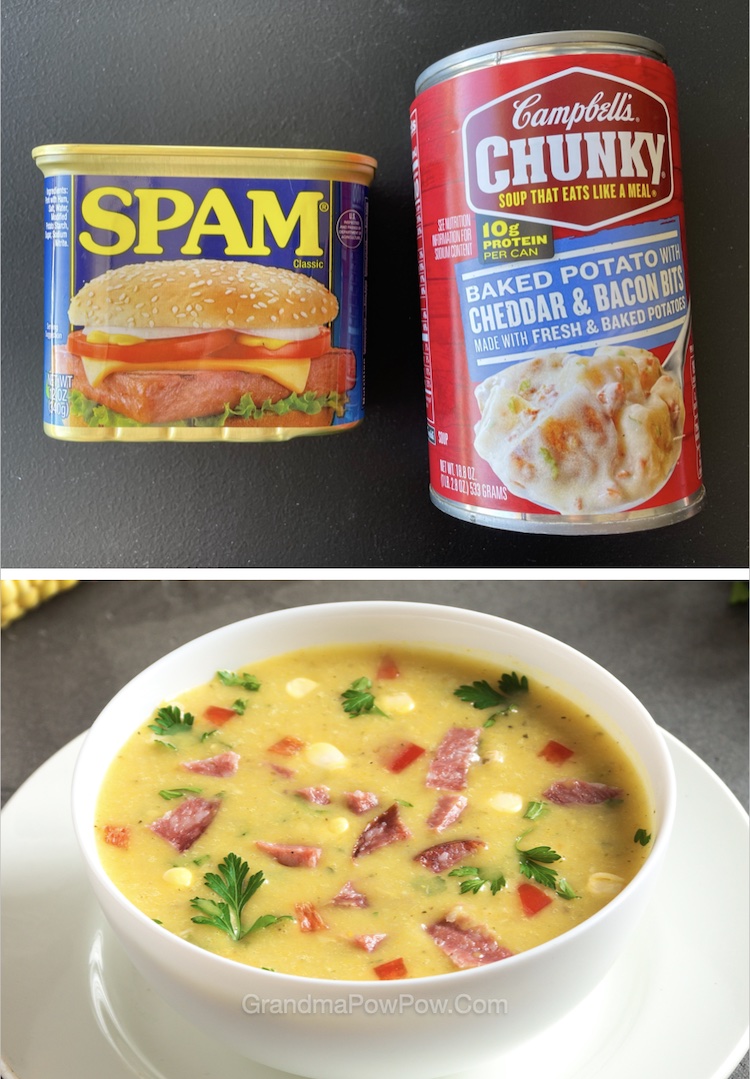 8. Cauliflower Rice
Every once in a while you've got to eat some veggies to keep things flowing. Frozen cauliflower rice is superb to have stocked in the freezer for mixing with fried spam and anything else you'd like.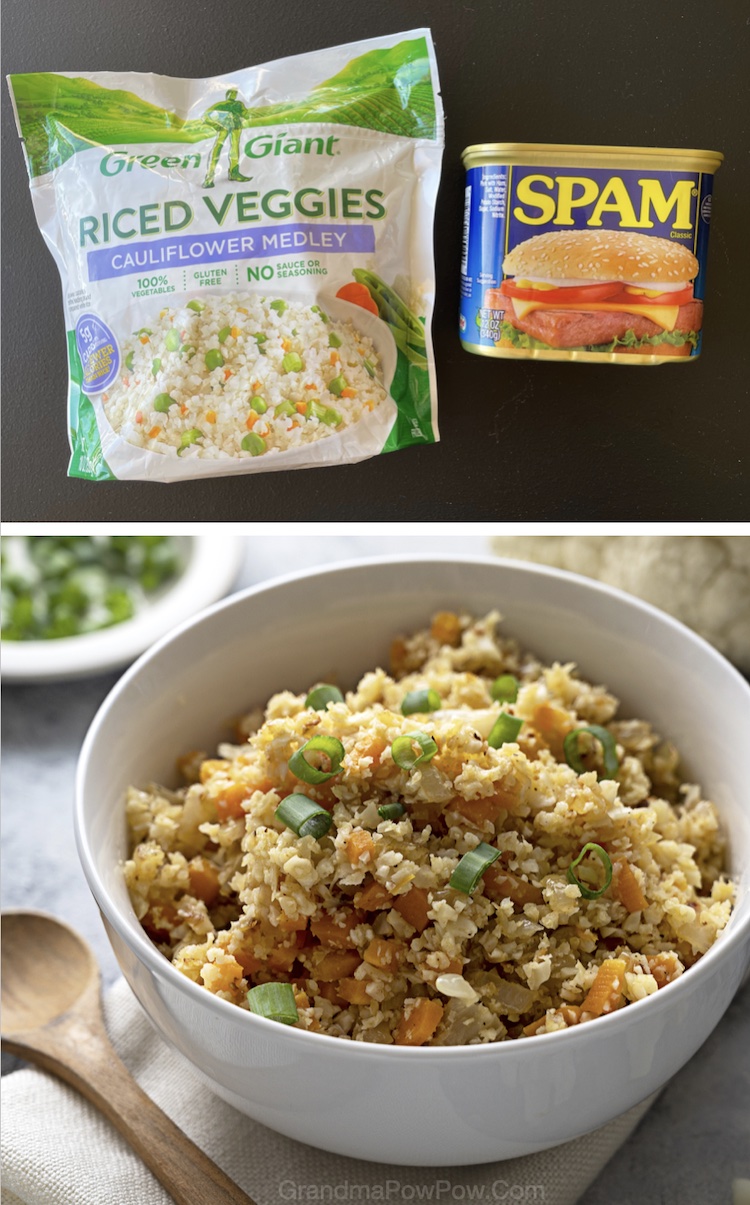 9. Baked Beans
Pork and beans make for the best BBQ side dish. Add some fried Spam to the mix to make it extra special.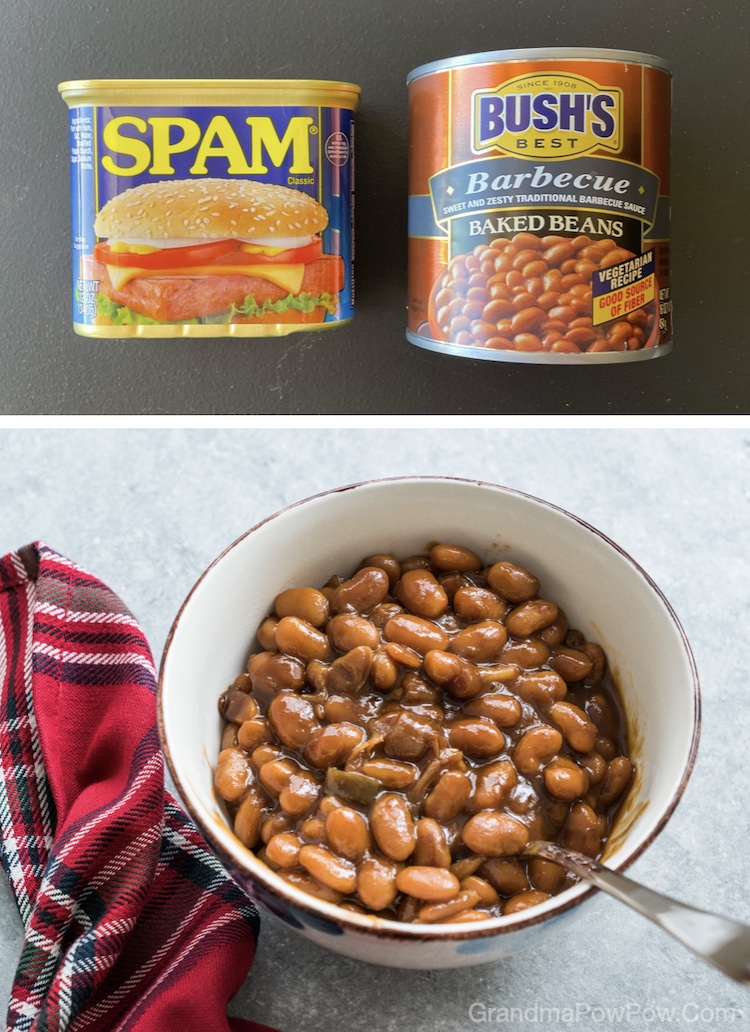 10. Frozen Meals
Just like bacon, any meal you can imagine could use a little Spam added to it for extra flavor including frozen pastas and cheesy rice.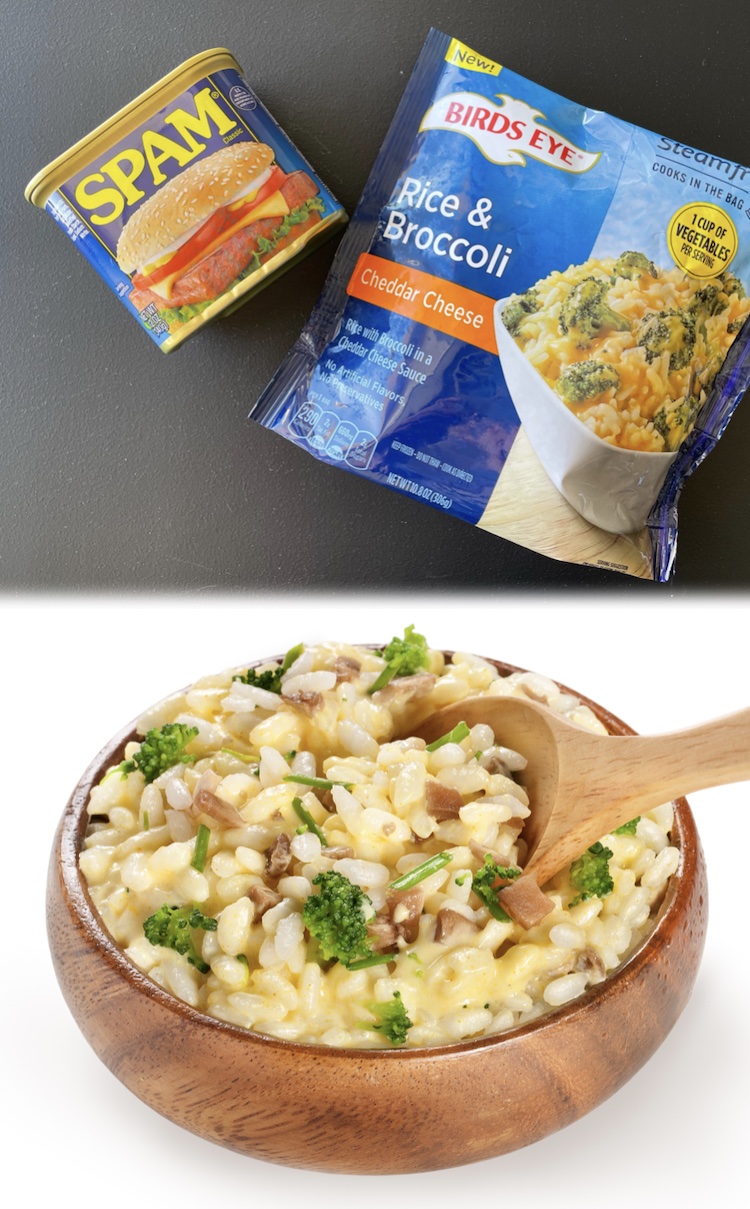 Follow me on Pinterest for more cheap & easy food ideas like this.
Canned spam is like the mysterious cousin of the canned meat family. Some people love it, others not so much, but either way, it's always there, lurking in the back of the pantry. And, let's be real, the name "Spam" doesn't exactly inspire confidence. But, despite its questionable reputation, canned spam has been a staple in households for generations. So, the next time you're feeling daring, why not give it a try? Who knows, you may be pleasantly surprised.
Fun Facts
The name "Spam" is a combination of the words "spiced ham." Who knew??
Spam was first introduced in 1937 and has been a staple in pantries ever since. It was popular during World War II because it was a convenient and non-perishable food that could be easily transported to soldiers.
In Hawaii, Spam is considered a local delicacy and is served in various dishes, such as Spam musubi and Spam fried rice.
Some people refer to Spam as "mystery meat" because of its unique flavor and texture.
The average American will eat about 15 pounds of Spam in their lifetime. Mr. Beery Belly has had at least 1,500 pounds, personally driving the average way up.
There is even a museum dedicated to Spam, located in Austin, Minnesota.