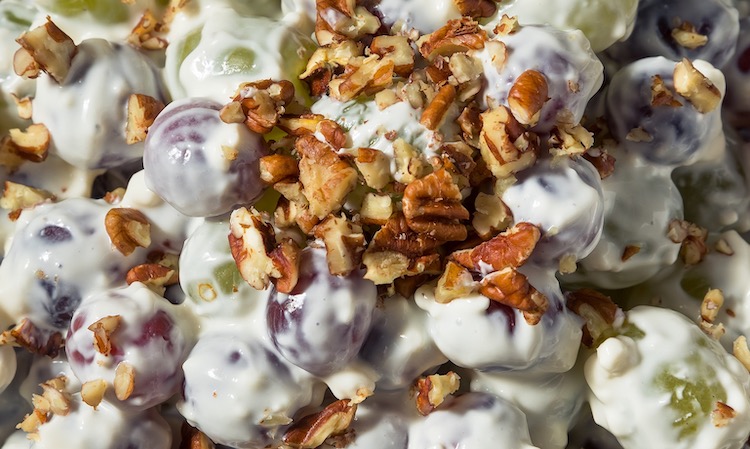 A delicious potluck dish, bbq side and party food idea! This creamy grape salad is always a crowd pleaser.
Well, aren't you just a lucky bunch of party animals. Granny here has got a yummy recipe for you! It's an easy grape salad made with cream cheese that's perfect for all your little get-togethers. If you're looking to impress your friends, this sweet side dish is just the ticket. Just don't forget to invite Granny, or I might have to bring my own bottle of wine and crash the party.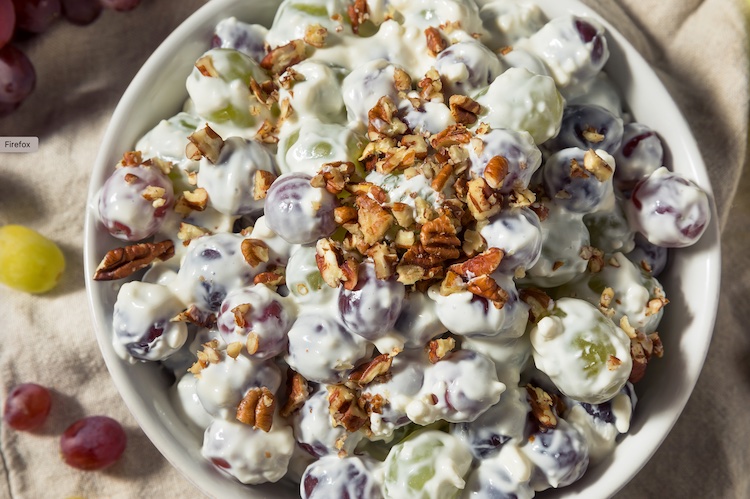 Now, I don't know about you, but when I think of a grape salad, the first thing that comes to mind is a wild and crazy party. That's right, folks. Nothing screams "let's get this party started" like a big ol' bowl of grapes covered in cream cheese. It's the perfect dish for those times when you want to show off your culinary skills. Just don't blame Granny when the party gets a little out of control – I warned you!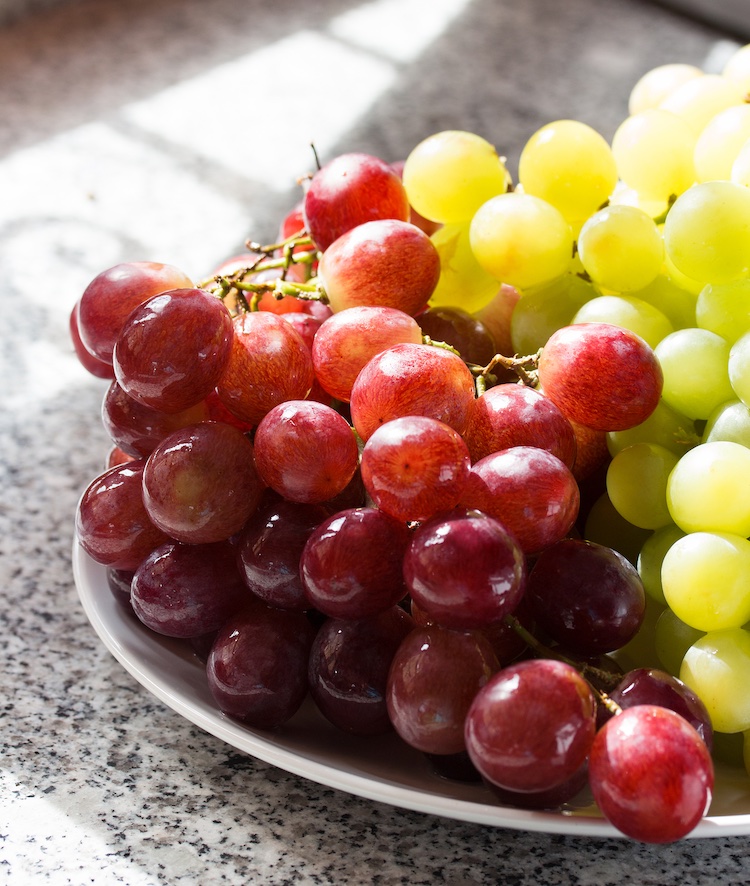 All of these other grape salad recipes are made with sour cream, but that's just plain weird to me. I prefer sour cream on my tacos, not covering my fruit. I use plain greek yogurt instead because I've been around for a while, and I know how to make a sweet bowl of deliciousness.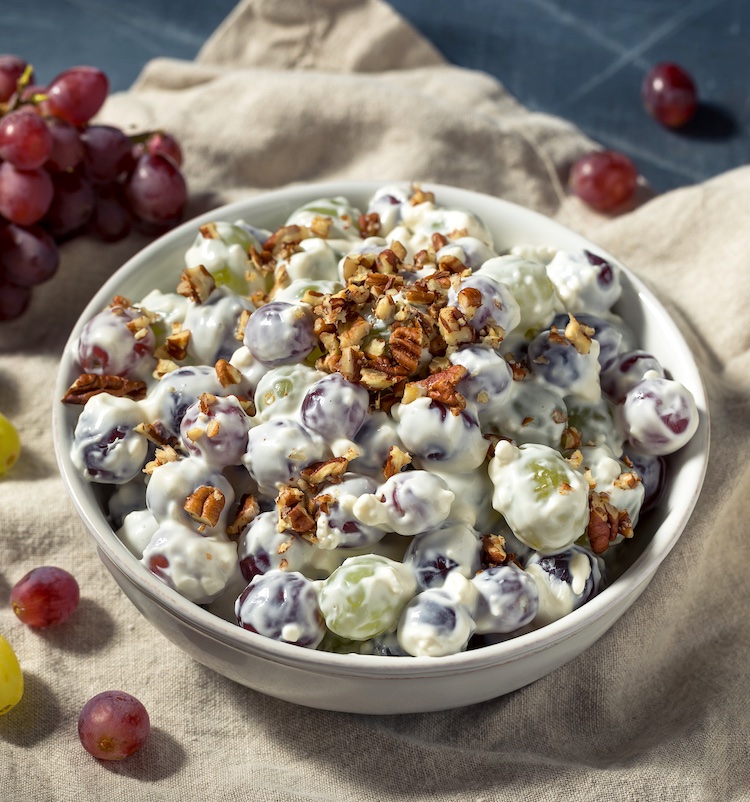 I usually prefer to drink my grapes smashed into a box of wine, but I also don't mind eating them when they're covered in a creamy cheesecake mixture and topped with crunchy pecans.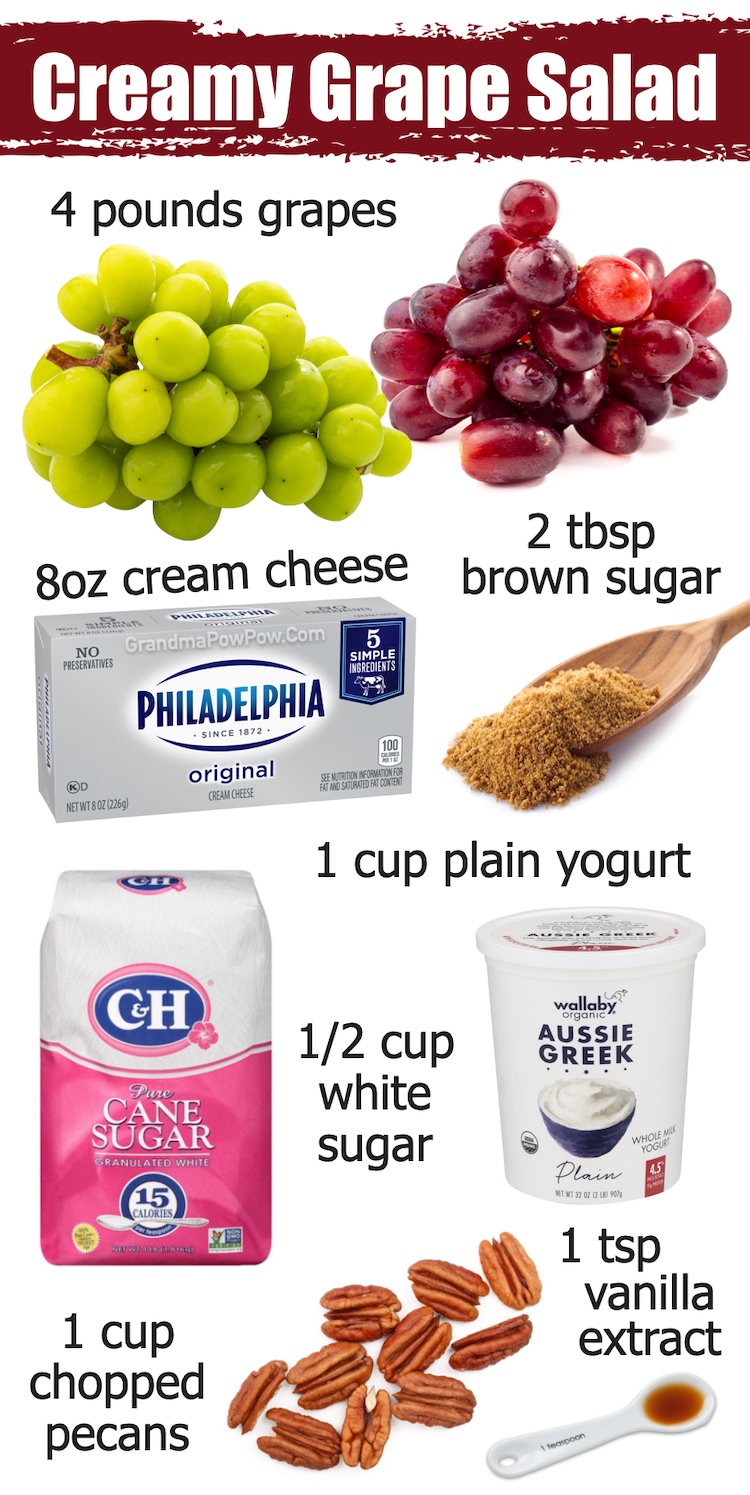 This recipe is so quick and easy to make, you don't even have to be sober. I made this salad last year for a potluck party, and I'm pretty sure that I had polished off a few bottles of wine by the time I even got around to washing the grapes. Mr. Beer Belly keeps mumbling something about rehab, but at least I'm not sitting around in a reclining chair all day watching the news.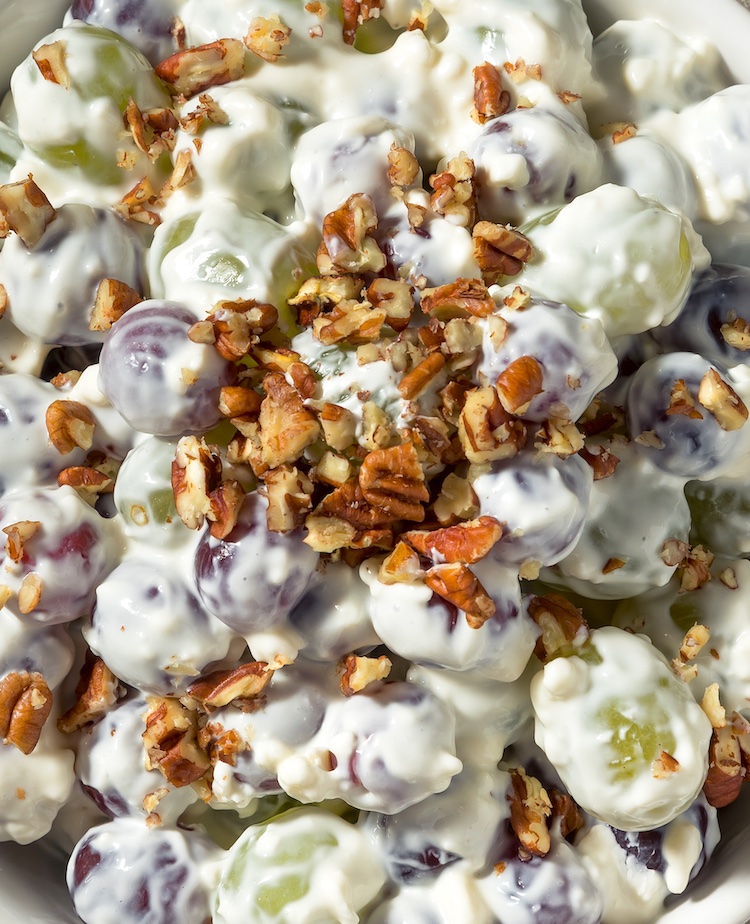 Print
Cheesecake Grape Salad
A super yummy grape salad recipe made with cream cheese and greek yogurt! This quick and easy sweet side dish is perfect for potlucks, bbq's and parties. Serve it cold with chopped pecans and watch it disappear.
Ingredients
4

pounds

grapes

(any color)

8

oz

cream cheese

(softened)

1

cup

plain greek yogurt

1

tsp

vanilla extract

1/2

cup

white sugar

1

cup

chopped pecans

2

tbsp

brown sugar

(optional)
Instructions
In a large bowl, beat together the softened cream cheese, greek yogurt, white sugar and vanilla extra until smooth.

Stir in the washed and dried grapes.

Spoon the cream cheese grape mixture into a serving bowl and refrigerate for at least 3 hours or overnight.

Just before serving, stir in half of the pecans with the grape mixture. In a small bowl, combine the remaining chopped pecans with brown sugar. Sprinkle the mixture over the grape salad. If you don't have brown sugar on hand, no worries! You can leave it out.
Notes
Want to take this recipe up notch? Toast the pecans in a skillet over medium heat with about 1/2 tbsp of butter while constantly stirring and tossing. This should take 3-5 minutes. Allow them to cool completely before garnishing the salad. 
I prefer to use a mixture of red and green grapes because it adds a little more color and interest. 
You could also use walnuts for garnish, but granny prefers pecans. Toffee bits would also add a lovely crunch!
If you want to use sweetened vanilla yogurt in place of the plain greek yogurt, simply omit the vanilla extract and cut the white sugar in half. 
When your husband makes a mess in the kitchen, you might as well go drink some more wine and forget about it cause he ain't ever cleaning it up. 
Follow me on Pinterest for more easy & delicious recipes like this.