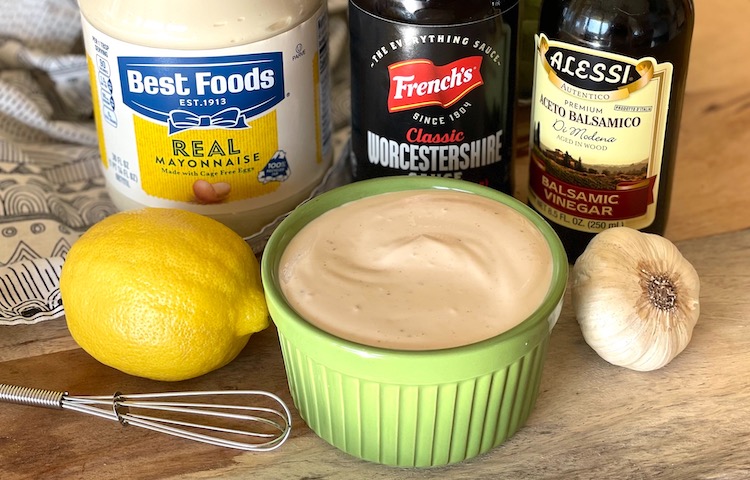 The world's best artichoke dipping sauce. I sometimes eat it by the spoonful– grandpa drives me to eat more than I should.
This artichoke dipping sauce is more addicting than my daily bottle of wine, and that's saying something. You're going to be surprised at how easy it is to make with just mayo, balsamic, Worcestershire, lemon juice, garlic and black pepper.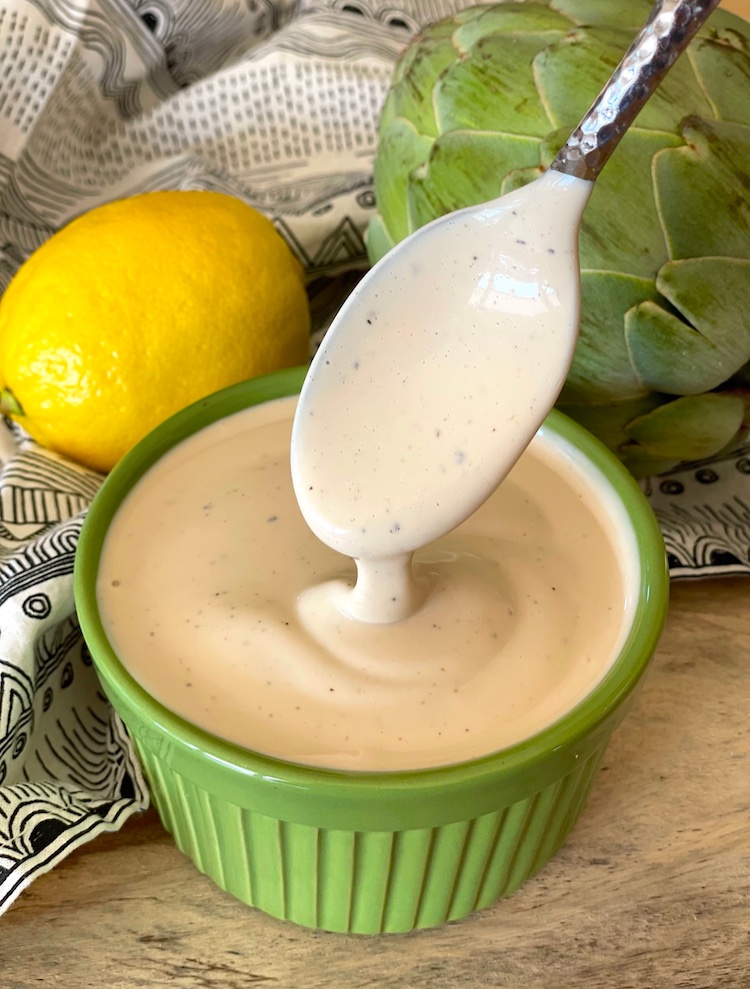 Let me tell you about this sauce. It will have you licking your fingers and going back for more. It starts with good old mayo, which is the backbone of any self-respecting dip. Then, we add some balsamic vinegar for a touch of sweetness, lemon juice for a bit of tanginess, and garlic for that oh-so-important kick.
But wait, there's more! To take this dip to the next level, we throw in some Worcestershire sauce. It's like liquid gold. Almost as valuable as a good box of wine. It adds a depth of flavor that will have you saying, "Dang, grandma. That's good!"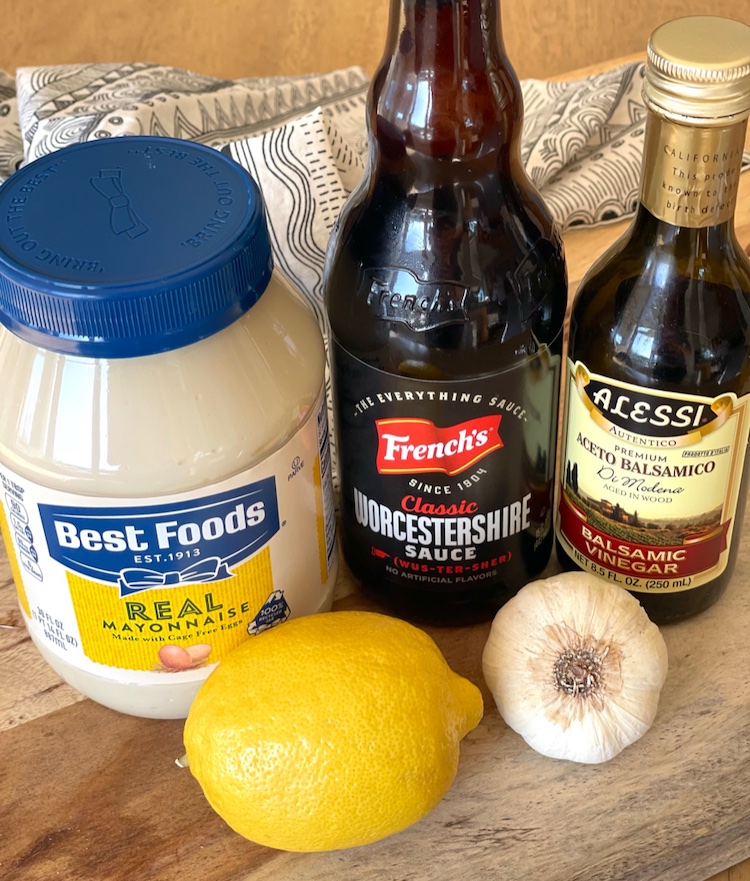 Now, you may be thinking, "Grandma, what do I dip in this amazing sauce?" Well, my dear, the answer is simple – artichokes, of course! But honestly, this sauce would be delicious on just about anything. I've even been known to dip asparagus or even french fries in it when I'm feeling fancy.
The Best Artichoke Dipping Sauce Recipe
1 cup mayonnaise
2 teaspoon balsamic vinegar
2 teaspoon Worcestershire sauce
1/2 tablespoon lemon juice
1/2 teaspoon garlic powder (or 1/2 tbsp minced garlic)
1/2 teaspoon black pepper
Now that you've discovered the best ever artichoke dipping sauce recipe, you need to make sure you know how to properly cook an artichoke.
The Best Way To Cook Artichokes
An Instant Pot is grandma's favorite because I don't have a lot of patience. Mr. Beer Belly takes away all my energy with his constant jabbering. Just don't forget to wash your artichokes and cut the ends off first.
InstaPot – Cook for about 20 minutes with 1.5 cups of water. You can also place a few lemon slices or garlic cloves into the water, but not really necessary with the flavorful sauce.
Stove Top – Fill a large pot with enough water to almost cover the artichokes. Bring the water to a boil and then reduce to a simmer. Cook until the leaves easily pull off, about 30-45 minutes.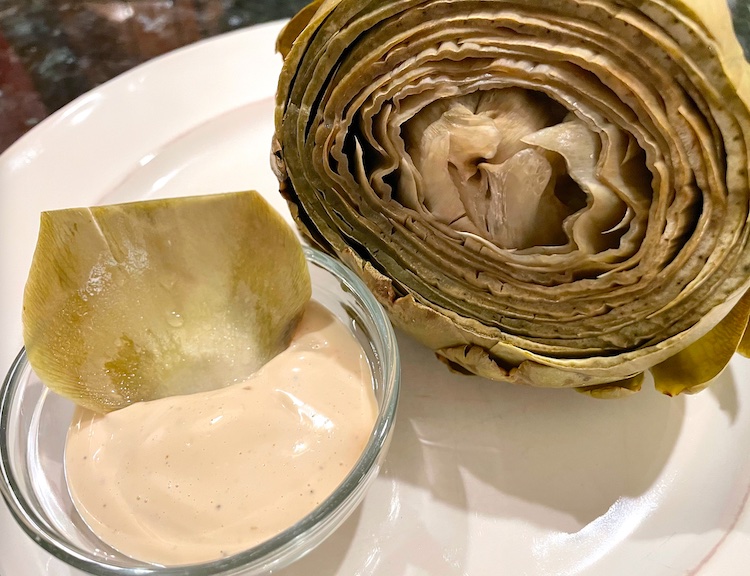 This artichoke dipping sauce will have your belly doing a little dance.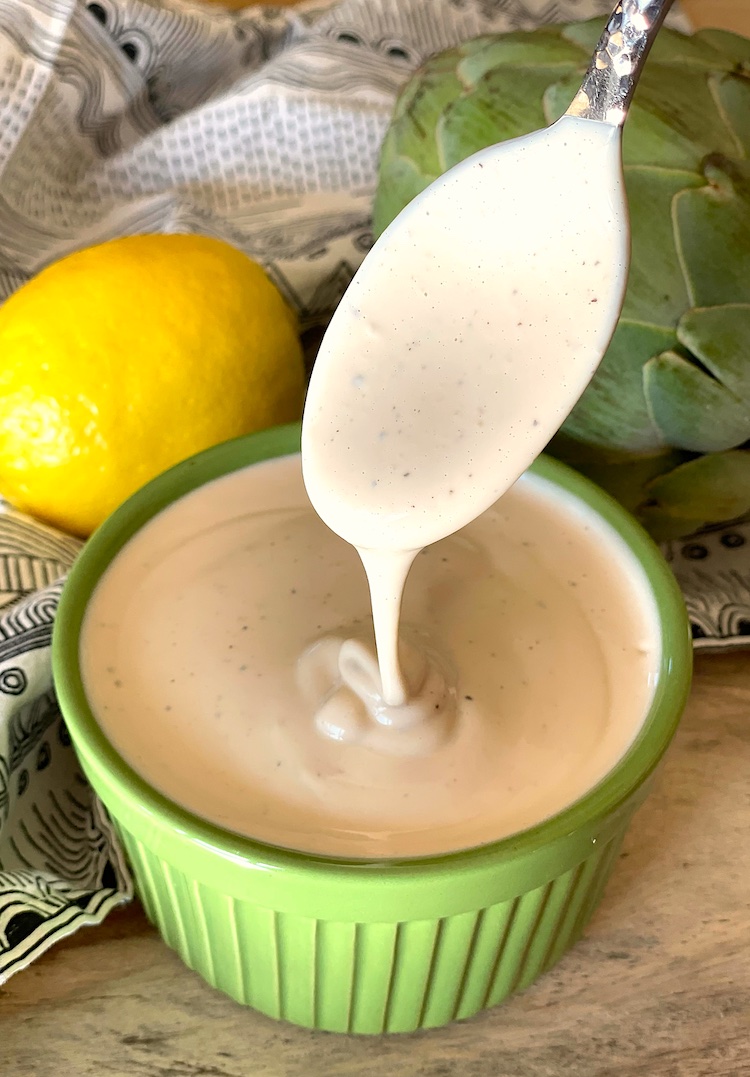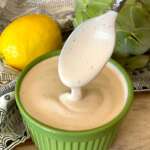 Print
The World's Best Artichoke Dipping Sauce
I may have had several glasses of wine, but just trust me when I say that this delicious sauce will soon be your favorite food group. It's grandma's favorite sauce for artichokes, asparagus and french fries.
Ingredients
1

cup

real mayonnaise

(Not Miracle Whip)

2

tsp

balsamic vinegar

2

tsp

Worcestershire sauce

1/2

tbsp

lemon juice

1/2

tsp

garlic powder

(or 1/2 tbsp minced garlic)

1/2

tsp

fresh cracked black pepper
Instructions
Mix everything together in a small bowl and refrigerate until you're ready to dig in. The sauce seems best when it's had about an hour to thicken up in the fridge, but it can also be enjoyed right away.
Notes
When your husband tries to give you advice, just say "Ok, honey. Thanks! You're real smart!". This approach will give you more time to make this sauce, and less time spent arguing.  
Artichokes are at their peak season March through May, so make sure you load up on these delicious veggies when you can. 
Follow me on Pinterest for more easy & delicious recipes like this. I don't pin anything crappy.