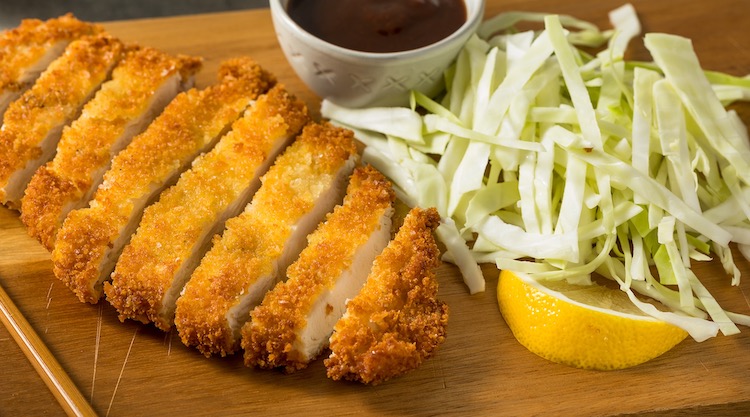 Oven Baked Crispy Chicken That Tastes FRIED! But it ain't.
Buckle up, kiddos, because I've got a recipe that will knock your socks off and make you feel like you're at a fancy restaurant – and all without having to put on pants! This oven-baked crispy chicken recipe is so good, you'll swear it was fried. And let me tell you, I've had my fair share of fried chicken, especially after several glasses of my favorite wine. But this recipe is a game-changer. All you need are some saltine crackers, butter, chicken breasts, and your favorite seasonings.
 It's so easy, even your husband could make it!
Not only is it super easy to whip up, but it's also unbelievably delicious. This chicken comes out perfectly crispy on the outside, but juicy and tender on the inside. And the best part? You can customize the seasoning to your liking, whether you want it spicy, salty, sweet, or something in-between! It's so good, you'll be licking your fingers clean and begging for more. Don't take my word for it, give it a try and you'll see why this easy recipe is a keeper!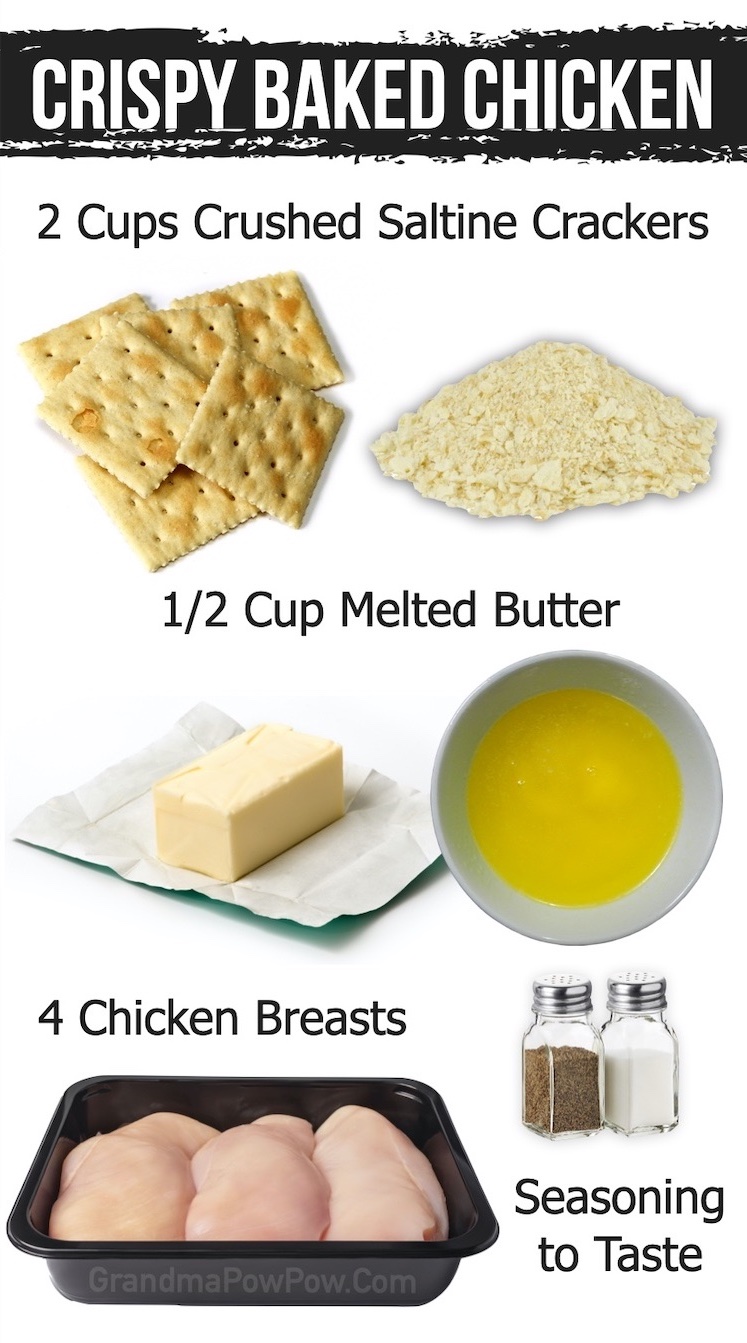 So, the next time you're sitting round drinking a bottle of wine and scratching your head trying to come up with a meal, just remember that sometimes the simplest things are the best, and you don't need a fancy cooking degree or any sobriety to make a delicious and satisfying meal for your picky family (who likes to sit around on those smart phones all day and complain about everything). I'm done jabbering now, on to the recipe…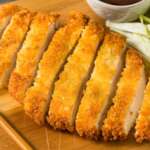 Print
Crispy Oven Baked Chicken Breasts
Your family is going to love this easy way of making chicken in your oven. So, break out your oven mitts, pour a glass of wine, and turn your oven on because you're about to make the best quick and easy chicken recipe for your picky eaters.
Ingredients
4

boneless chicken breasts

(about 2 lbs)

2

cups

crushed saltine crackers

1/2

cup

melted butter

1

tsp

salt

garlic powder to taste

(or seasoning of choice)
Instructions
Preheat oven to 425 degrees F and grease a large baking dish.

Pound the chicken breasts into thin even pieces. This step is optional, but gives you more of that crispy outer edge.

In a large shallow bowl, mix together the crushed crackers, salt and seasoning of your choice.

Dip the chicken breasts into the melted butter, and then press into the cracker mixture, evenly coating them on all sides. Arrange the chicken into your prepared dish. If you have any extra melted butter left when you're done, you can evenly pour it into your dish.

Bake for 25-45 minutes or until the chicken is no longer pink with an internal temperature of 165 degrees F. The time will greatly depend on the size and thickness of your chicken. If you choose not to pound it, it may take longer.
Notes
How many crackers does it take to make 2 cups crushed? Approximately 55 crackers, which should be about 1 1/2 sleeves. 
Can I use another type of cracker? Yes! Ritz crackers also work well. Any cracker that crushes well into small pieces would also work. 
Are you looking for the easiest way to crush the crackers? I simply place them in a large Ziplock bag and use a rolling pin, but you can also crush them in a food processor. This grandma is too lazy to do a bunch of dishes, so the bag method is preferred. 
Follow me on Pinterest for more easy & delicious recipes like this. I don't pin anything crappy.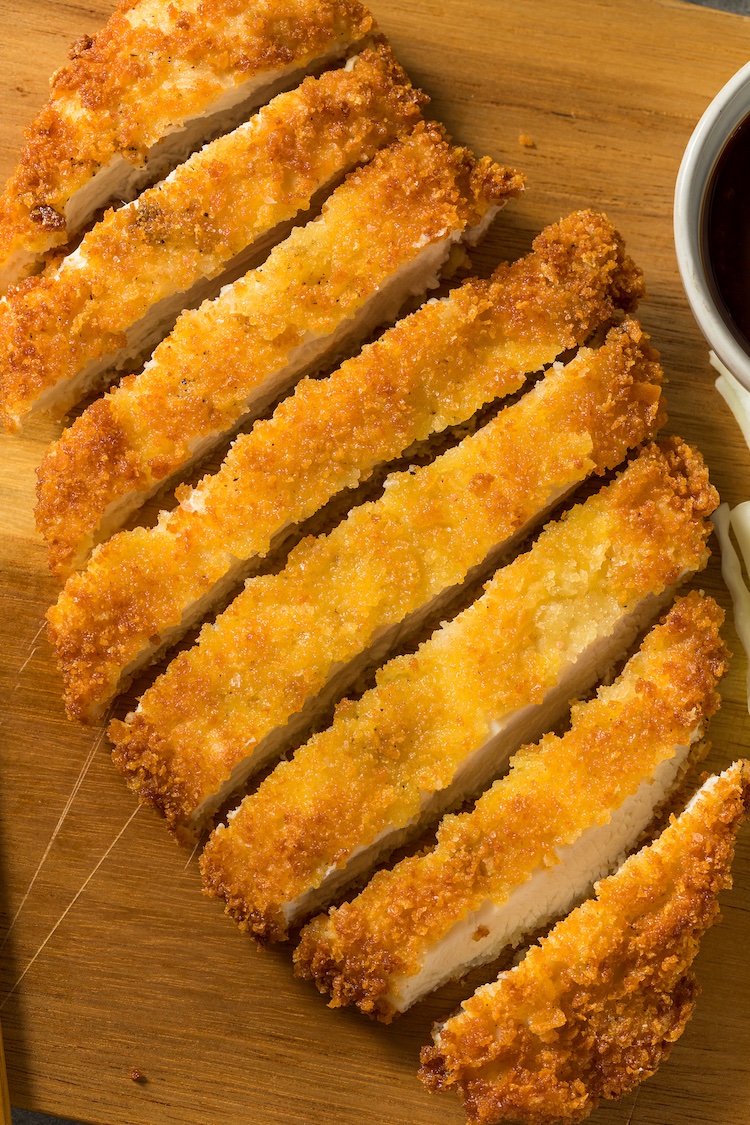 Helpful Tips
If you end up with any leftovers, this chicken is just as good leftover when reheated in an air fryer! Simply set your air fryer to 400 degrees and reheat for 4-6 minutes.
Try dipping this crispy chicken in ranch dressing or Chick-fil-a sauce for the ultimate comfort food.
If you're looking for easy side dish ideas, store-bought mashed potatoes and a side of something green like broccoli or oven roasted brussels sprouts are our favorites.
Pounding chicken breasts before cooking can help them cook evenly and reduce cooking time, as well as ensuring each bite gets more of the crispy coating.
Chicken breasts can be easily overcooked, resulting in dry and tough meat. If you don't already have one, I recommend a meat thermometer. Chicken should be cooked at 165 degrees at the thickest part.
Crackers are a popular way of making baked chicken taste fried! Try experimenting with different crackers. Saltines and Ritz are the most popular because they crush easily, but other brands work as well.
If you're interested in saving money, try buying chicken breasts in bulk when they go on sale and then freeze them into portions that you typically prepare for your family. We use a  food sealer we got from Costco for just about everything. This saves me from making several trips to the grocery store because we always have some sort of protein in the freezer.
Stop scrolling around on that TikTok and make some chicken. Show your kids how to do it so they can cook it for you some day!